The Future of Software is No-Code and Low-Code Programming
Muskan Taneja
November 02, 2023
5 min read
Introduction
In the past few years, there has been a notable evolution in the way we approach software development. Before, only experts could write code, but now, there's an easier way called no-code and low-code programming. This new way is making it possible for more people to create software and turn their ideas into reality. They present user-friendly interfaces and pre-designed modules that allow individuals to construct applications without the need for extensive coding knowledge.
In this blog post, we'll talk about what no-code and low-code are, why they're becoming really popular, and what we can expect from them in the future.
What is No-Code Programming?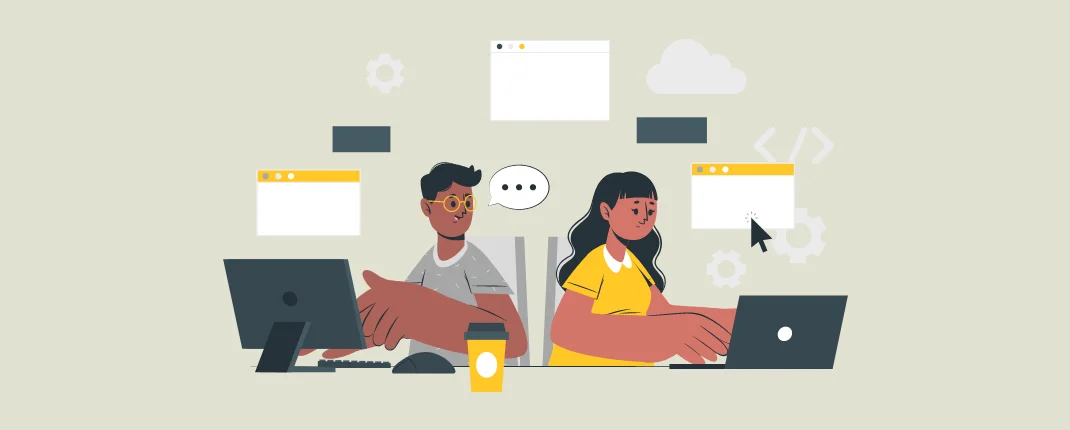 No-code Programming, as the name suggests, refers to the process of building applications without the need for traditional programming languages. Instead, it relies on a visual interface, often employing drag-and-drop elements and predefined modules. This allows individuals, regardless of their coding proficiency, to create functional software solutions.
Here are use cases of No-Code Programming:
Website Development:

No-Code platforms enable individuals or businesses to create websites without writing any code. They provide intuitive, drag-and-drop interfaces for designing and structuring web pages. This is especially useful for small businesses, entrepreneurs, and individuals looking to establish an online presence quickly and efficiently.

Prototype Development:

No-Code is ideal for rapidly creating prototypes or proof-of-concept applications. It allows users to visually represent their ideas and functionalities, making it a valuable tool for designers, product managers, and entrepreneurs looking to validate concepts before investing in full-scale development.

Simple Mobile Apps:

No-Code platforms are capable of producing basic mobile applications. These could include event apps, informational apps, or apps for internal team communication. They are particularly useful for small businesses or organizations seeking a cost-effective solution for a mobile presence.

Marketing Campaigns:

No-Code tools are valuable for creating landing pages, interactive forms, and lead-generation tools for marketing campaigns. Marketers can quickly design and deploy campaigns without relying on developers, saving time and resources.

Task Automation:

No-Code platforms can be used to automate repetitive tasks within a business. For instance, setting up automatic email responses, scheduling social media posts, or managing customer inquiries through chatbots.
What is Low-Code Programming?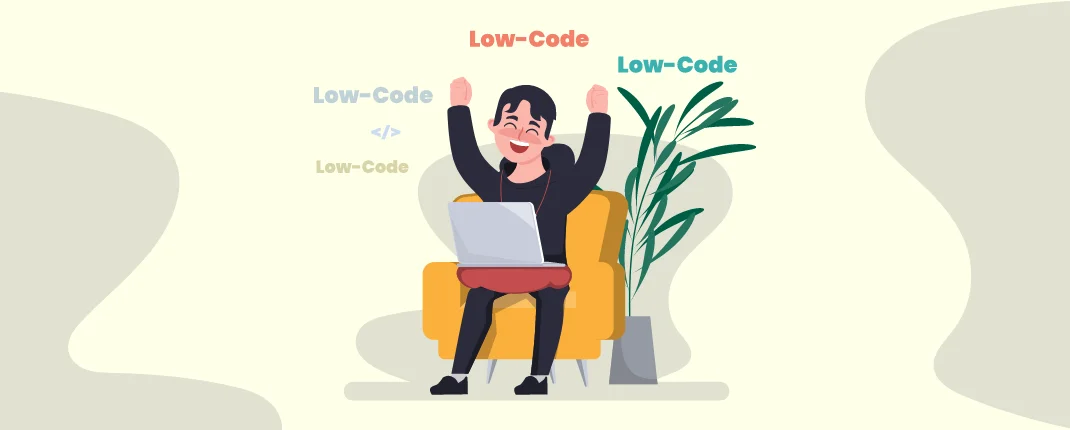 Low-code Programming is a step up from No-Code, offering a middle ground between full-fledged coding and a purely visual interface. With Low-Code, developers work with a reduced amount of manual code, relying on pre-built components and templates. This accelerates the development process while still providing flexibility for customization.
Here are some use cases of Low-Code Programming:
Workflow Automation

Low-Code platforms are excellent for automating complex workflows within an organization. This could involve processes like invoice approval, onboarding new employees, or managing customer support tickets.

Custom CRM Systems

Low-Code is ideal for building customized Customer Relationship Management systems tailored to specific business needs. This allows for tracking leads, managing customer interactions, and streamlining sales pipelines.

Business Process Management

Low-Code platforms excel at managing end-to-end business processes. This includes tasks like supply chain management, order processing, and inventory management, ensuring efficiency and accuracy.

Integration with Legacy Systems

Low-Code platforms are well-suited for integrating with existing legacy systems, databases, and external APIs. This allows businesses to modernize their operations without overhauling their entire technology stack.

Complex Application Development

Low-Code programming is suitable for creating comprehensive applications that require a higher level of customization and control. This could include project management tools, inventory management systems, and enterprise resource planning software.
Also Read: Mobile app vs. Website: Which Is Better?
Reasons Why No-Code and Low-Code Programming Adoption is Increasing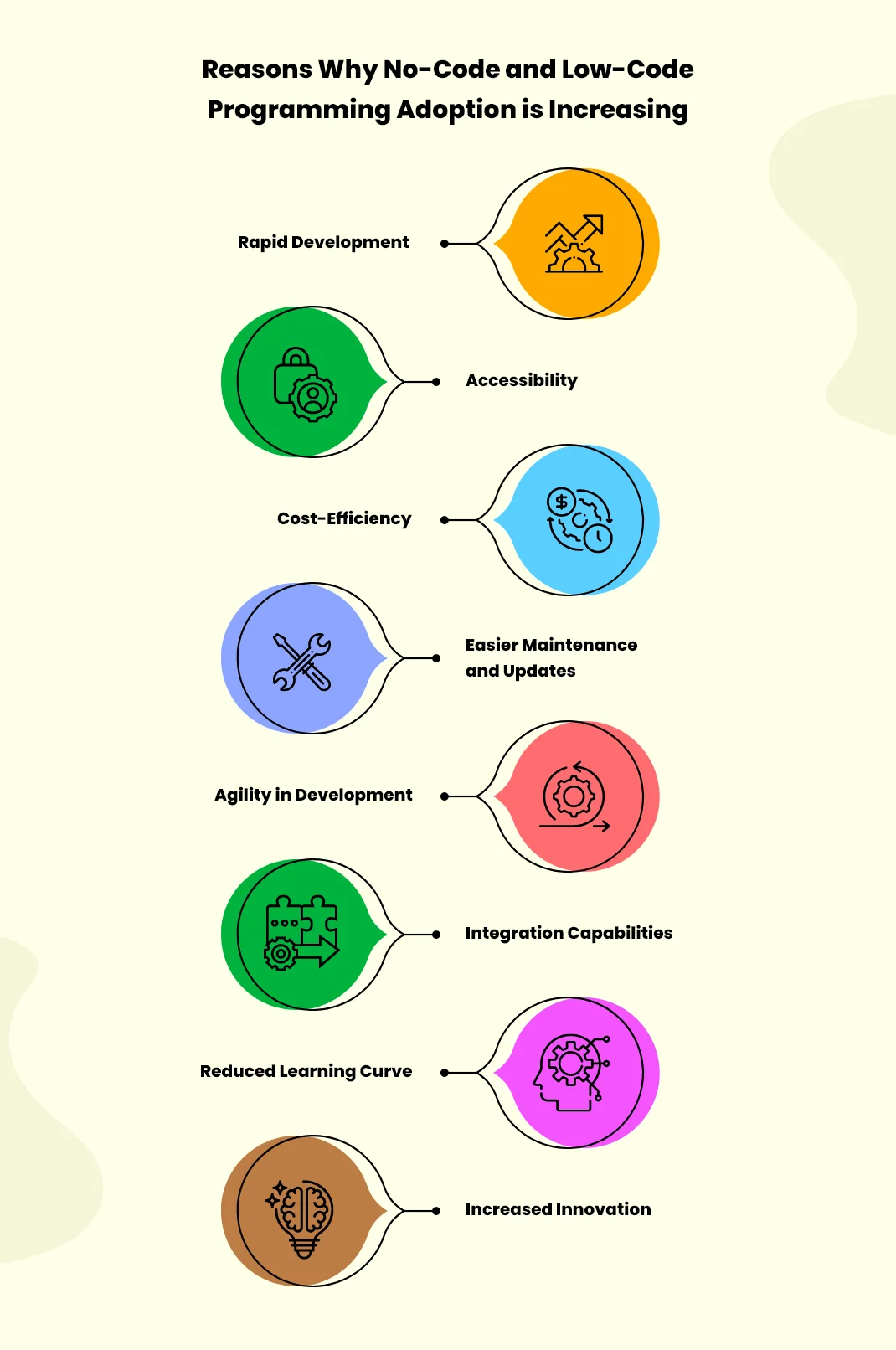 Take a look at the following points to understand some of the reasons that have contributed to the adoption of no-code and low-code programming.
Rapid Development

No-code and Low-Code platforms dramatically expedite the application development process. By eliminating the need to write extensive lines of code, developers can focus on designing the application's functionality, significantly reducing time-to-market.

Accessibility

These approaches democratize software development, allowing a broader audience to participate in creating applications. This inclusivity empowers business analysts, designers, and other non-technical professionals to bring their ideas to life.

Cost-Efficiency

No-Code and Low-Code platforms can substantially lower development costs. Since they require fewer resources and less specialized knowledge, companies can allocate their budgets more effectively and efficiently.

Easier Maintenance and Updates

The simplicity of No-Code and Low-Code platforms facilitates easier maintenance and updates. With a visual interface, it's straightforward to identify and modify components, making the software more adaptable to changing requirements.

Agility in Development

These approaches enable developers to iterate and adapt quickly. This agility is crucial in today's fast-paced business environment, where the ability to pivot and respond to changing needs can make or break a project.

Integration Capabilities

No-Code and Low-Code platforms often have extensive libraries and integrations, allowing developers to connect with various APIs, databases, and external services. This facilitates the creation of feature-rich applications.

Reduced Learning Curve

Traditional programming languages can have steep learning curves, deterring individuals without coding backgrounds. No-Code and Low-Code platforms, on the other hand, offer intuitive interfaces that are accessible to a wider audience.

Increased Innovation

With No-Code and Low-Code, innovation is no longer limited to those with advanced coding skills. This democratization of development encourages fresh perspectives and ideas, fostering a more innovative software landscape.
The Path Forward
As technology continues to advance, No-Code and Low-Code programming are poised to become even more prevalent in the software development ecosystem. As these platforms continue to evolve, we can expect to see several significant trends:
AI and Automation Integration

AI-powered tools will become integral components of no-code and low-code platforms, enabling even more sophisticated application development without deep technical expertise.

Increased Collaboration

These platforms will facilitate seamless collaboration between technical and non-technical team members. This will lead to more cross-functional development teams, resulting in faster and more innovative software solutions.

Industry-Specific Solutions

No-code and low-code platforms will continue to cater to specific industries, providing tailored solutions for healthcare, finance, e-commerce, and more. This specialization will further accelerate development within these sectors.

Security and Compliance Focus

With the rise of no-code and low-code development, there will be an increased emphasis on ensuring the security and compliance of applications built using these platforms.
Conclusion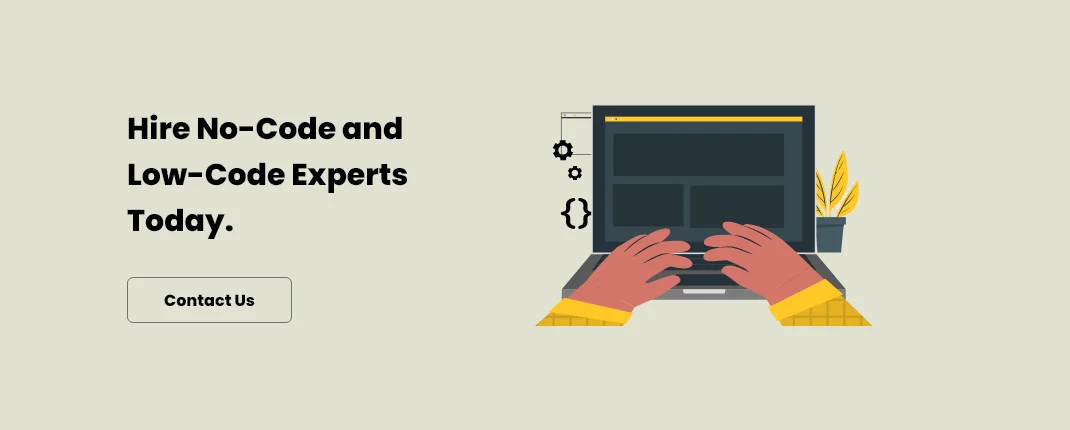 The future of software development is undeniably intertwined with No-Code and Low-Code programming. As these approaches continue to evolve and mature, we can expect a revolution in how software is created and maintained. Embracing this shift will empower a new generation of developers and lead to more efficient, cost-effective, and innovative solutions for businesses worldwide. It's an exciting time to be a part of the ever-evolving world of software development.
Are you also the one who is looking for an app development company that provides low-code or no-code programming services? Then you are in the right place. Innow8 Apps specializes in creating cutting-edge mobile applications using innovative low-code and no-code technologies. This approach not only accelerates the development process but also ensures high-quality, customized solutions.
Whether you're a startup looking to launch your first app or an established business seeking to streamline operations, Innow8 Apps has the expertise to bring your vision to life.
FAQs
Who Can Benefit from No-Code and Low-Code Platforms?

Both No-Code and Low-Code platforms are designed to be accessible to a wide range of users. They are particularly useful for business analysts, designers, and professionals with limited coding experience, allowing them to actively participate in the development process.

Can No-Code and Low-Code Replace Traditional Coding Completely?

While No-Code and Low-Code platforms are powerful tools, they may not replace traditional coding entirely. They are best suited for specific types of applications and workflows, and traditional coding may still be necessary for highly complex or specialized projects.

What Are Some Popular No-Code and Low-Code Platforms?

There are several popular platforms available, including Bubble, OutSystems, Mendix, Microsoft Power Apps, and many others. Each platform offers its own set of features and capabilities.

Can No-Code and Low-Code Solutions Integrate with Existing Systems?

Yes, many No-Code and Low-Code platforms offer integration capabilities, allowing them to work alongside existing systems, databases, and APIs.

What Does the Future Hold for No-Code and Low-Code Programming?

The future of No-Code and Low-Code programming looks promising. As these technologies continue to evolve, they are likely to play an even larger role in software development, empowering a broader audience to create applications and innovate in various industries.
Hire No-Code and Low-Code Experts Today