Presenting you the most revolutionary Food Delivery app of the era.
End to wait! we make it possible for foodies to order their favorite food from their favorite restaurants.
All in a Single Order!
At Innow8 Apps, we are continuously thriving to discover the most wanted and challenging digital solutions that have led us to develop the innovative on-demand food delivery app. Additional to the traditional food ordering app features, now food lovers can buy food from multiple restaurants in a single order.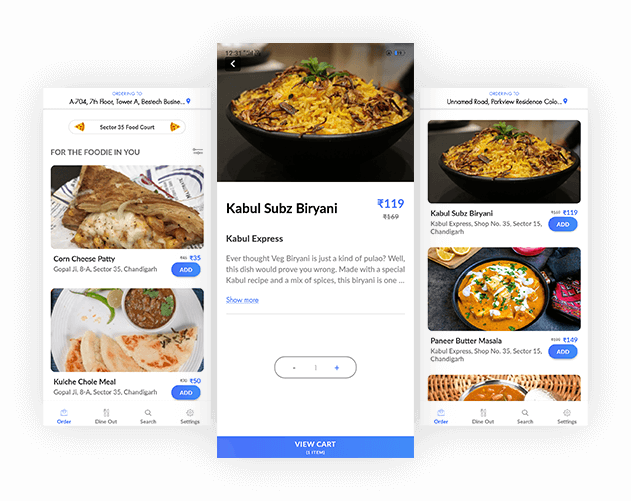 Food Specialists
(Know your meal specialists)
Apart from best-selling and must-try food, we show the restaurants that specialize in each food meals, making it simpler to pick the delightful meals from multi-restaurants.

Call for Combo-restaurants
(Combos from Duo-restaurants)
We have redefined the combo styles. Customers are no longer limited to order combos from a single restaurant. They can choose or create their favorite combos from more than a restaurant.

Freedom for Foodies
(Only the Best Dishes from best restaurants)
Unlike traditional on-demand food delivery apps, we give the customers to choose the best food from the best restaurants they love. We don't showcase any food that is anything other than best.
Enhanced Food Ordering Experience
The smartest digital innovation for Businesses
Being the experts in on-demand app development, we are able to bring you the top features that focus to increase customer satisfaction and thereby boost business.
Elevate your brand by delivering a world-class food experience!
Easily validate restaurants and delivery persons to provide an authentic on-demand food delivery service
Showcase only the best food items
Securely Integrate multiple payment gateways for an enhanced user experience
Loyalty programs to boost sales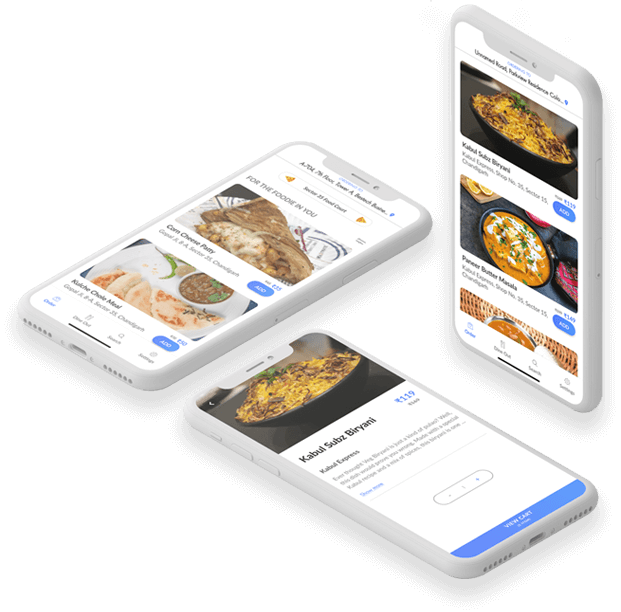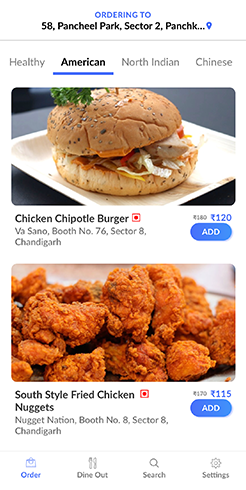 Mobile Push Notifications
Engage customers by sending personalized mobile push notifications. Let customers be notified for Every Order, Offers, and updates that are up to come.
Food categories
A sorted menu for all the customers who have their eating preferences. We have categories of food items for customers to search and discover their kind of food in no time.
Filters/ Sorting
All the customers can create custom filters and sort food and restaurants to discover food items of their preferences.
OTP Logins
With OTP login integration we are able to increase the app sign-ups 10x times when compared to social and standard logins.
Dine Out
Customers can choose to dine out instead of home delivery.
Food courts
We have merged the top restaurants of a locality into a single food court, letting users order from multiple restaurants in a single order.
Restaurant List
We Provide a List of Quality restaurants in the app. This is to ensure only quality food items are delivered to the customers.
Offers and Rewards
To improve customer loyalty we have implemented discount coupons and reward programs that can potentially increase In-app purchases.
Sign Up
Quick and verified signups for food delivery person within the app
Contact Customer
Whenever there is a delivery issue, the riders can contact the customers without risking customer privacy.
Contact Restaurant
For queries and regarding the food ordered, the delivery person can contact the restaurant directly from the app.
Time Preferences
From the food delivery app, all the riders can prefer their working time and accept orders accordingly.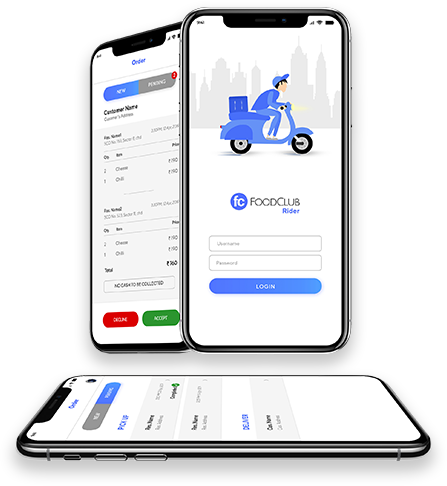 In-App Navigation
We have integrated in-app Google navigation to direct the delivery person towards restaurants and delivery location.
Order Details
For precise food delivery, the order details are displayed within the app and the rider is notified if the customer has opted-in cash on delivery as payment method
Order Notification
The delivery person is notified when an order is placed and that needs to be assigned to a rider.
Earning Board
Food Delivery persons can view their eaning for custom time periods.
03
Restaurant App
We provide a 4 phase on-demand food delivery app development service which comprises restaurant apps.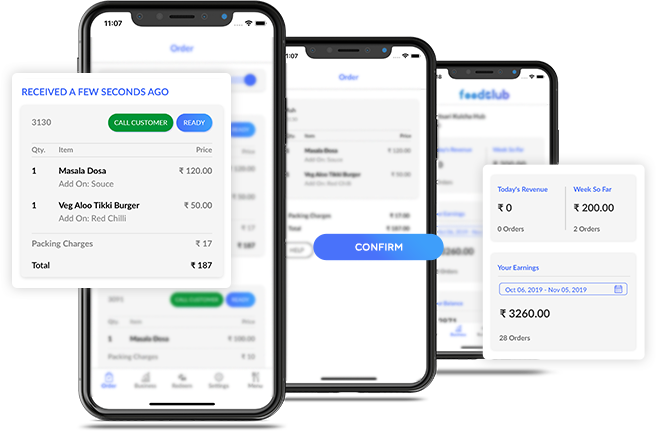 Order details
The order details including the Add-on requested by the customer can be viewed by the restaurants and can help process food accordingly.
Order acceptance
The restaurants can accept the orders and reject the same when the food goes out of stock or if cannot be processed.
Revenue Board
The restaurants can view the revenue details earned by them through the app for any chosen date.
04
Admin Dashboard
Take control of your Food Delivery System
Analytics
You can observe and interpret stats about the orders, restaurants, food courts and the revenue from the dashboard
Manage Users
Streamline user management, track customer interactions, and ensure a seamless experience with our intuitive Admin Dashboard for your food delivery app.
Manage restaurants
Easily add and remove Restaurants to the app, You can also view the contact details and the service time of each restaurant.
Food Menu
Add and manage the food items from the dashboard quickly. You can also manage the availability of each food item of each restaurant.
Delivery Person
Add and remove Delivery persons in your food delivery system. You can also add the details required for KYC when a new delivery person signs ups.
Latest deals
Add and manage offers and discounts easily from the dashboard.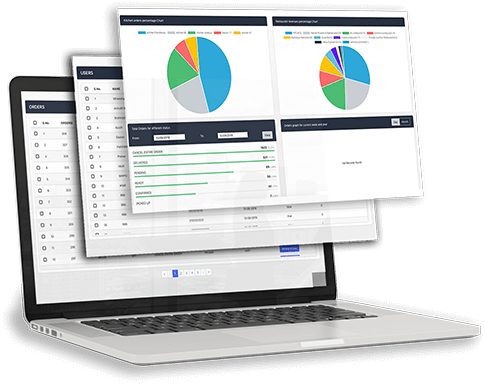 The on-demand food app development process includes a series of requirements that need to be satisfied. At Innow8 Apps, we undertake on-demand projects and deliver them without compromising on the customer experience, which we believe is the core factor that defines the success of a business. Apart from following the traditional app development process, our app developers invest time in research and learning new technologies that can be practically implemented.

The master brain behind the most innovative on-demand app idea that lets customers place multiple orders from multiple restaurants in a single order.

We have a specialized team for developing on-demand food apps. Thereby we do timely project deliveries.

Our Workflow is completely based on customer requirements. We provide 100% customization to meet our customer needs.
Talk to our On-demand Food App experts
Top Questions Asked about Food Delivery app
01
How much does it cost to develop an on-demand food delivery app?
The cost of developing a food delivery app varies with the requirements. You can develop your food ordering app with standard features at minimal rates. Additional costs are applicable as per custom feature requirements. Contact us to know more about food ordering app development.
02
Can I build a Food Delivery app that can order meals from multiple...
Yes, You can now build a food delivery app in which users can place orders from multiple restaurants in a unique order. Innow8 Apps has developed successful food delivery app that has all features including multiple orders from multiple restaurants.
03
How online on-demand food delivery business makes money?
On-demand food delivery business charges a certain rate as commission from all the orders that are placed through the online Food ordering system. Also, on-demand business can charge from restaurants for sponsored content and listing within the app.