Published by Muskan Taneja on August 14, 2023
How Blockchain Benefits The Agriculture Industry?
Introduction
You've probably heard a lot about blockchain technology due to the rise of Bitcoin and other cryptocurrencies. But Did you know its impact on agriculture is also quite significant? In farming, blockchain helps ensure food safety by tracking information throughout the entire food supply process.
Blockchain's ability to store and handle data is useful for something called traceability. This means we can easily follow the journey of food from where it's grown to where it's consumed. This technology is also used to develop smart farming tools and insurance plans based on factors like crop performance. All of this is a big step forward in modernizing agriculture.
As Per Statista Reports, The global market value of blockchain in the food and agriculture market amounted to about 140 million U.S. dollars in 2020 and is projected to grow to about 1.5 billion U.S. dollars by 2026.
What Is Blockchain Agriculture?
Blockchain agriculture refers to the integration of blockchain technology into the diverse facets of the agricultural value chain. This blockchain integration aims to address some of the longstanding challenges faced by the industry, while also introducing novel opportunities for innovation. This covers a lot of things, like making farming sustainable, reducing waste, helping shoppers make informed choices, and preventing fraud in future deals, resulting in making farming better and more profitable.
Uses Cases Of Blockchain In Agriculture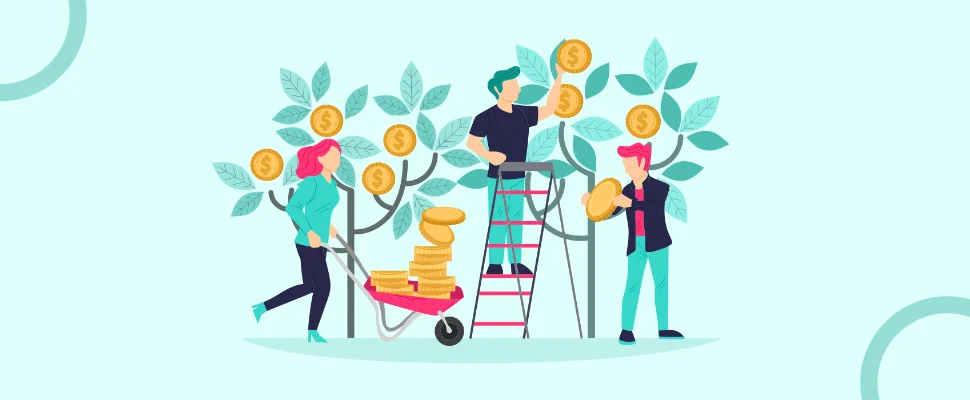 Food Supply Chain

Blockchain enhances the transparency and traceability of the food supply chain. Each step of the journey from the farm to the table can be recorded on the blockchain, creating an unchangeable record. This enables consumers to know exactly where their food comes from and how it was handled throughout the supply chain. In cases of contamination or recalls, blockchain can rapidly trace the source, minimizing health risks and reducing waste.

Crop and Food Production

Blockchain technology can assist in tracking and improving crop and food production by recording data about planting, cultivation, and harvesting. This data can include information about the types of crops planted, the conditions in which they were grown, and the methods used. This helps farmers analyze and optimize their practices for better yields. Additionally, data from various farms can be aggregated on the blockchain, allowing for insights into regional or global agricultural trends.

Managing Agricultural Finance

Blockchain can revolutionize agricultural finance by providing access to financial services for farmers who are traditionally underserved by banks. Smart contracts can automate lending processes, allowing farmers to access loans based on their agricultural data stored on the blockchain.

This data can include crop yields, quality assessments, and land ownership records. Furthermore, blockchain-based digital tokens or cryptocurrencies can be used for seamless cross-border transactions, reducing the complexities and fees associated with traditional banking systems.

Controlling Weather Crisis

While blockchain itself can't control the weather, it can help manage the impacts of weather crises on agriculture. By storing historical weather data on the blockchain, farmers can analyze trends and plan for potential climate-related challenges. Smart contracts can trigger actions in response to extreme weather events. For instance, insurance payouts can be automatically initiated based on predefined weather conditions.
Benefits Of Blockchain in the Agriculture Industry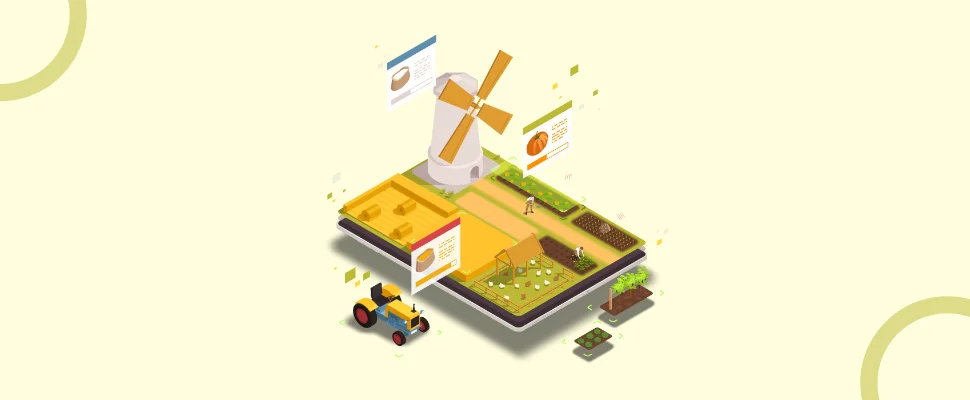 In the agriculture industry, blockchain is proving to be a game-changer, offering a wide array of benefits that transform the way agricultural operations are conducted, monitored, and managed. Some of them are listed below:
Increased Traceability In Supply Chain

One of the most significant benefits of blockchain technology in agriculture is its ability to provide transparency and traceability throughout the entire supply chain. Traditionally, the agricultural supply chain has been complex and opaque, making it difficult for consumers to trace the origin and journey of their food.

However, blockchain's decentralized and immutable ledger ensures that every step in the process is recorded and cannot be altered. This empowers consumers to access accurate and trustworthy information about the products they purchase, fostering trust and confidence in the quality and authenticity of their food.

Ensuring Quality Assurance

Blockchain technology enhances quality assurance in the agriculture industry by securely storing crucial information related to product quality. Certifications, inspection reports, and quality test results can be recorded on the blockchain, creating an unchangeable record that ensures compliance with industry standards. This empowers consumers to make informed choices based on accurate information and encourages producers to uphold the highest quality standards.

Mitigating Fraud and Counterfeiting

Fraud and counterfeiting have been longstanding challenges in the agriculture industry, affecting both consumers and producers. Blockchain's immutability and security features make it highly resistant to tampering and unauthorized changes. By recording transactions and relevant data on the blockchain, the industry can significantly reduce the risk of counterfeit products entering the market, ensuring that consumers receive authentic and safe products.

Harnessing Data for Informed Decision-Making

Agriculture generates vast amounts of data, from weather patterns and soil conditions to crop yields and market trends. Blockchain provides a secure and tamper-proof platform for storing and sharing this data. By aggregating and analyzing this data, farmers can make informed decisions about planting schedules, irrigation, fertilization, and pest control. This data-driven approach optimizes resource allocation, increases productivity, and reduces waste.

Smart Contracts for Fair Trade

The use of smart contracts on the blockchain introduces a new level of automation and fairness to agricultural transactions. Smart contracts are self-executing agreements with predefined conditions. In the context of agriculture, smart contracts can automate various processes, such as payments to farmers based on predetermined criteria like crop yields or quality. This eliminates the need for intermediaries, ensures prompt and fair compensation to farmers, and creates a more equitable trade environment.
Parting Thoughts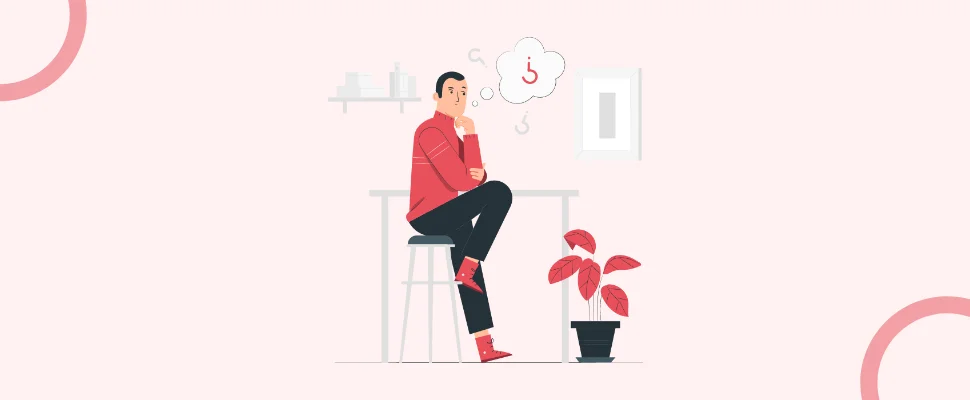 In conclusion, the potential of blockchain technology in revolutionizing agriculture and the food supply chain is undeniable. It introduces a fresh approach that can replace traditional methods and bring about positive change. By leveraging blockchain, farmers can enhance their chances of receiving fair prices for their products while optimizing food production through technological advancements.
If you're considering embracing blockchain technology to enhance your agricultural practices, Hire Innow8 Apps. We are making determined efforts to encourage the adoption of blockchain within the agricultural sector. We recognize the enormous potential to elevate the way food is cultivated, distributed, and consumed. By collaborating with a skilled app development company, you can harness the power of blockchain to streamline your agricultural operations and contribute to the evolution of a more efficient and sustainable food supply chain.
Collaborate with Innow8 apps to achieve success through their blockchain integration services