Published by Muskan Taneja on Feb 10, 2023
Logistic App Development Services: Features and Benefits
Technology progress is regarded as one of the best innovations of the digital era. Now a days, Businesses use cutting-edge technology that benefits from automated transportation handling. They can provide goods and other services more quickly and effectively. Utilizing specific business resources, such as a well-designed logistics business app, can boost the flow of your company's operations. The delivery of goods and resources, as well as various activities like warehousing, and tracking, can be handled by logistics companies. These efforts will improve and advance the companies' production.
Mobile apps will significantly help the logistics and supply chain sector by increasing productivity and expanding opportunities. It will only rearrange all of your responsibilities so you can showcase your effort in a single output. Logistic app development can assist in tracking the processes in addition to managing commercial operations. The monitoring and analysis of the orders will become quite simple for everyone.
In this blog, we will discuss the types, features, benefits, and costs of logistic mobile app development. So without wasting any further time, let's get started.
What is a Logistic App?
A Logistic app is a mobile application for logistics companies that enables them to efficiently oversee and manage a fleet of vehicles, routes, drivers, cargo, and shipping information. It assists in satisfying the expanding demand for scalable on-demand logistics mobile applications where customers want to make reservations for the logistics directly from their mobile device. The users are also provided updates regarding the shipment of the items so they may stay informed about the delivery status in real-time.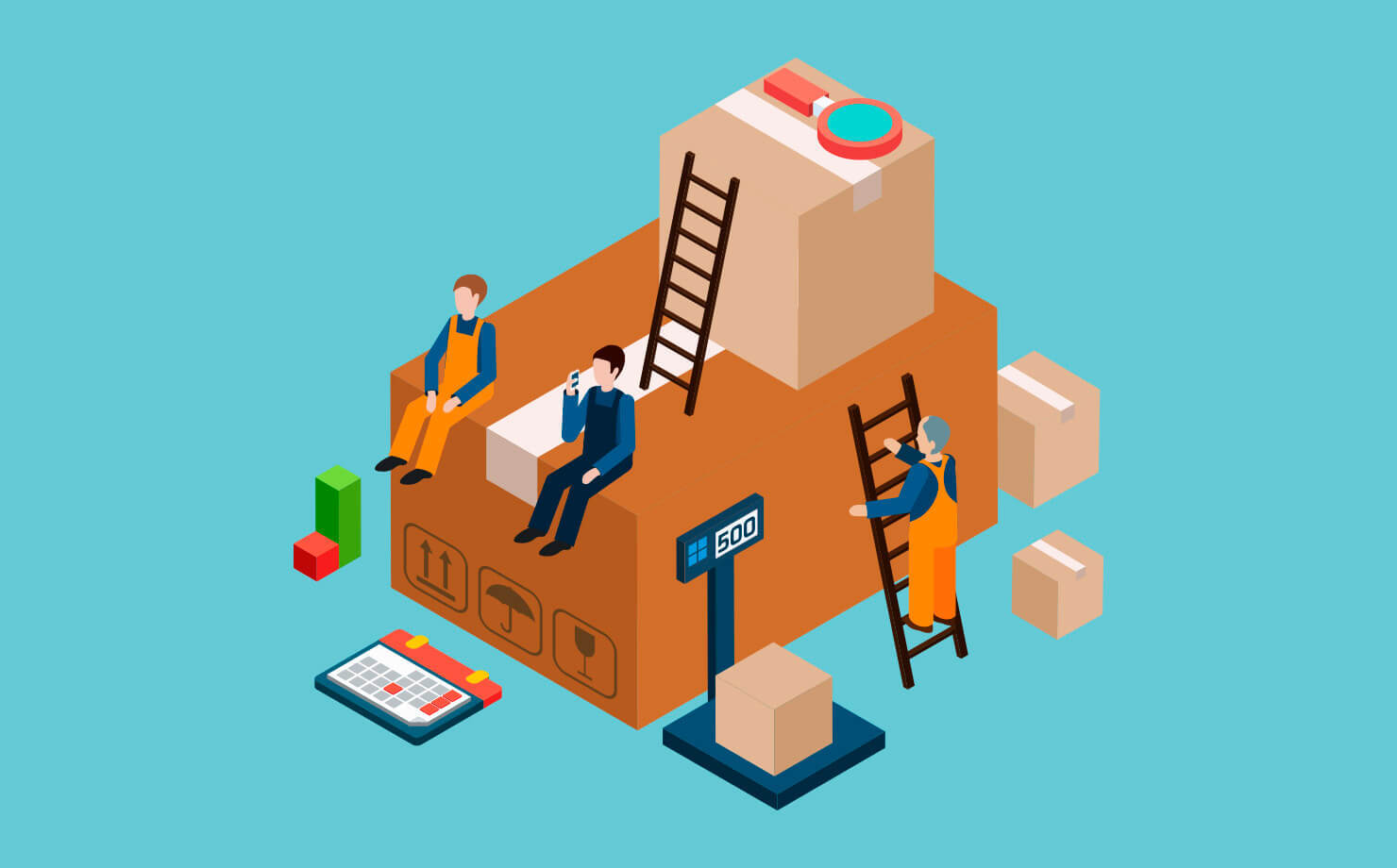 Types Of Logistic Apps
Before discussing features and benefits, let's take a closer look at the different logistics and transport app options:
Fleet Management App: This is the best way to manage the fleets involved in a transportation or logistic service operation. An app of this kind for logistics and transportation can provide details about your vehicles' maintenance schedules, and associated metrics like fuel and gas consumption, routes followed, etc. It can also assist you in allocating a vehicle to each employee and monitoring the location of that vehicle in real-time throughout delivery.
On-Demand App: On-demand logistics app solution satisfies the consumers' needs for rapid gratification by enabling them to quickly and easily reserve logistics services, such as truck booking apps that cater to their demands for cargo booking.
Warehouse Management App: This kind of logistics app will keep track of the inventories you have in stock. With only one tap, the admin can access that information. The app will provide details on each item's accessibility, the stock levels in the inventory, the personnel working in the warehouse, etc.
Route Optimization App: This app helps you to keep track of your driver's location. You may receive continuous updates on transportation and the whereabouts of your fleets.
Now, Let's discuss the attributes that a logistics app must have to function correctly.
Features Of Logistic App
For the development and design of a logistics app, three panels are necessary.
1. User Panel
Registration: Through the mobile app, users can register with their email address, phone number, and password.
Search & Select Vehicles: Users can look up local vehicles that are available for transportation by the consignment size for delivery and choose the perfect vehicle.
Schedule Booking: Users can plan bookings based on their needs and interests.
Tracking: The user has access to all the fine data regarding shipments and the items that are waiting to be delivered.
Push Notifications: This feature is to let users know vital and relevant information about the application.
Feedback: Users can evaluate and provide feedback to assist other customers.
Multiple Payment Options: Users can get an option to pay for the services via credit/debit cards, online wallets, internet banking, etc.
2. Driver Panel
Login: The mobile app allows drivers to sign up with their email addresses, phone number, and password.
Documents Verification: For ID verification, the driver must upload documents such as driving licenses and health reports, which enables managers to make quick decisions based on the information at hand.
In-app calling: This feature help drivers find out the proper address of the customers.
Pick-up requests: Permit drivers to accept or reject any order or request according to their preferences.
Freight details: It includes information about freight, such as the weight of the items, the amount of gasoline used, the cost of tolls, shipping, etc.
Access to history: Helps to revisit the history and other invoices if any issue occurs.
Push Notifications: This feature is to let drivers know vital and relevant information about the application.
Mark delivery: Allows to send alerts to both customer and admin parties regarding parcel delivery.
3. Admin Panel
Dashboard: Keeps all the records of drivers and customers including pending orders, completed orders, etc.
Push Notifications: Send the drivers and the customers a push notification with any system-related news or deals.
Vehicles Management: The management and storage of the delivery vehicles, as well as all additional costs incurred, is included in this feature.
Fleet Management: Permits the admin to know the continuous area of their fleet. Also, Helps him to guide a driver with the shortest possible routes.
Invoice Management: Allows admin to manage the invoices by approving the payment received by the driver.
Benefits Of Logistic App Development
The concept behind developing a mobile logistics app is to improve service effectiveness while cutting down on time and financial outlays by which more tech entrepreneurs are eager to adopt this technology. It makes a lot of things easier. The following are a few benefits you should consider:
Minimised Delivery Time & Cost: An efficient transportation logistics mobile app streamlines the delivery process and automates business operations. It directs drivers to take the best routes possible, simplifies fleet management, and expedites delivery. Additionally, it saves resources and lowers operating expenses. It enables you to provide customers with high-quality, reasonably priced services that strengthen client relationships.
Less Paperwork: The logistics and transportation industry demands extensive data management, administrative work, and the maintenance of historical records. The mobile apps for logistics and transportation make life easier for employees. In terms of data administration and documentation, it saves a lot of time and effort. An efficient mobility solution automates the business process and lowers manual risks with a well-organized administrative panel.
Better Performance Monitoring: The logistics industry uses many human resources, including drivers, managers, and supply chain operators. The mobile app development for this industry offers comprehensive transparency and well-structured procedures. Keeping track of vehicles around the clock can be difficult, but mobile apps have made it simpler by giving users better control over the delivery processes. Utilizing GPS technology establishes a timely monitoring process and guarantees accuracy.
Enhanced Customer Service: On-demand mobile apps development for logistics services must be adapted to the requirements of the users. It provides numerous customer advantages, including real-time order tracking, pinpointing the locations of specific products, and determining the anticipated delivery time. Additionally, it offers helpful online book systems, secure payment processing, and customer support. Users must register, book packages online, and take control of delivery on their own.
Simplify Driver's Life: Drivers use the logistics mobile app as a tool to manage orders, receive notifications, and determine the quickest and shortest path to their destination. The mobile app also provides specific KPIs to drivers of vehicles. They have quick access to crucial information about the state of their trucks, the status of transitions, completed orders, etc. via a dashboard.
How Much Does It Cost For Logistic App Development?
The choice of platform, the country where the development is outsourced, the features, and the design all have an impact on the price of developing a logistics mobile app. Overall, an app with minimal functionality for a single platform should cost between $25000 and $35000, whilst an app with sophisticated features for both the Android and iOS platforms would cost between $50000 and $60000.
Concluding Thoughts
Creating a mobile app for logistics is a challenging but lucrative business venture. We hope our blog will help you gain a thorough understanding of the basic development ins and outs.
If you are in pursuit of how to build a logistics app for business, Innow8 apps can help you. Our experience in the domain has helped us assist numerous market leaders in developing, implementing, and enhancing their mobile logistics platforms to satisfy their customer demands and increase revenue. Our strategy entails discovery workshops, scoping meetings, and business analysis, during which we identify and elicit your company's functional and non-functional requirements.
Speak with one of our logistics experts right away to get started, and let us help you on the road to success.
Develop Your Logistic App Today!