How Retail Businesses Can Leverage AR in their E-commerce Solutions to Drive More Sales?
Himanshi Arora
September 29, 2023
8 min read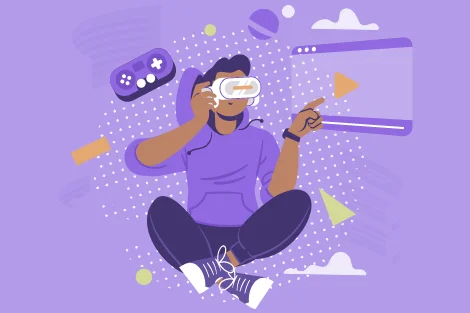 Introduction
The retail industry has been undergoing a significant transformation in recent years, and one of the most exciting developments is the integration of Augmented Reality (AR) technology into e-commerce solutions. AR has the potential to revolutionize the way consumers shop online, offering immersive and interactive experiences that can drive more sales and boost customer engagement.
61.3%
The size of the global retail augmented reality market was assessed at $2 billion in 2021 and is anticipated to attain $61.3 billion by 2031, demonstrating a robust compound annual growth rate (CAGR) of 41.4% from 2022 to 2031.
Augmented Reality (AR) is a technology that overlays digital information, such as 3D models, videos, or animations, onto the real world. Unlike Virtual Reality (VR), which immerses users in a completely virtual environment, AR enhances the real world with digital elements. In the context of retail, AR can be used to superimpose product information, virtual try-ons, and interactive experiences onto the physical world, creating a more engaging and personalized shopping experience for customers.
In this article, we'll explore the world of AR in e-commerce and how retail businesses can harness its power to enhance their online presence and drive revenue.
What Is Augmented Reality?
Augmented Reality (AR) is a technology that enhances the real world by overlaying digital elements, providing interactive and contextual experiences through devices like smartphones and AR glasses. It's used across industries, including gaming, education, healthcare, and retail. AR seamlessly blends the virtual and physical worlds for enriched interactions.
Augmented Reality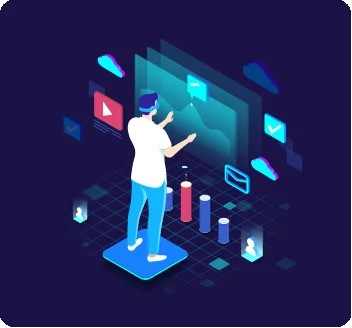 Enhances the real world with digital elements.
Requires minimal hardware (usually just a smartphone or tablet).
Ideal for applications like virtual try-ons, product visualization, and interactive marketing.
Virtual Reality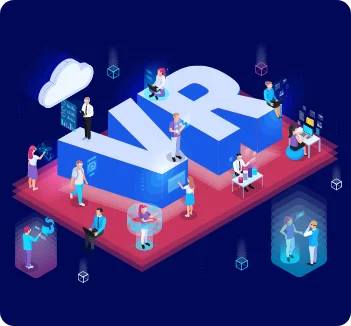 Immerses users in a completely virtual environment.
Requires specialized hardware, such as VR headsets.
Commonly used for gaming, training, and simulations.
Also Read- The Impact AI in Fintech Industry in 2023
Covid 19 Impact On Retail Industry
The global retail landscape experienced a seismic shift when the COVID-19 pandemic struck. Lockdowns, social distancing measures, and consumer concerns about in-store shopping safety forced retailers to reevaluate their strategies. This challenging environment accelerated the adoption of AR technology in the retail sector, offering innovative solutions to address the unique challenges posed by the pandemic.
Enhanced Virtual Try-Ons and Product Visualization

With traditional brick-and-mortar stores temporarily closed or operating with restrictions, consumers turned to online shopping in record numbers. However, one of the key challenges in e-commerce has always been the inability to physically try on clothing, accessories, or cosmetics. AR bridged this gap by enabling virtual try-ons. Shoppers could use their smartphones or tablets to see how products would look on them in real-time. This not only improved the shopping experience but also reduced the risk of purchasing items that did not meet their expectations.

Reduced Return Rates

High return rates are a common challenge in e-commerce, but the pandemic exacerbated this issue as customers hesitated to make purchases without trying products first. AR played a pivotal role in reducing return rates by providing customers with more accurate product representations. Virtual try-ons and 3D product visualization allowed shoppers to make informed decisions, resulting in fewer returns and increased customer satisfaction.

Contactless Shopping Experiences

To minimize physical contact and uphold safety measures, retailers needed to rethink how customers could interact with products. AR offered a solution by allowing customers to scan QR codes or use AR apps to access product information, reviews, and pricing details without handling physical items. This contactless shopping experience not only enhanced safety but also provided shoppers with convenient access to valuable product data.

Interactive Marketing Campaigns

With people spending more time online during lockdowns, brands leveraged AR for interactive marketing campaigns. AR-powered advertisements allowed customers to engage with products virtually, promoting product awareness and engagement. Brands that incorporated AR experiences into their marketing strategies often saw increased customer engagement and brand recall.

Safe and Engaging Customer Experiences

Retailers explored AR as a way to create safe yet engaging in-store experiences when physical shopping was possible. AR-powered virtual mirrors, for example, allowed customers to try on clothing without physically changing outfits, minimizing contact with store items. This not only improved safety but also made shopping more enjoyable.

Resilience and Adaptability

The pandemic underscored the importance of resilience and adaptability in the retail industry. AR emerged as a technology that could quickly pivot to meet changing consumer needs and preferences, making it a valuable asset for retailers navigating the uncertainties of the pandemic era.
Latest AR Trends In Retail
By 2024, the number of mobile AR users will reach 1.73 billion
To leverage AR effectively, retail businesses must stay up-to-date with the latest trends and advancements in the field. Here are some of the latest AR trends in retail:
Web-Based AR

Retailers are increasingly adopting web-based AR solutions that don't require users to download separate apps. This lowers the barrier to entry for customers and increases accessibility.

AR-powered Smart Mirrors

Some clothing stores have integrated AR-powered smart mirrors that allow customers to virtually try on outfits and see how they look from different angles. This feature has proven to be a hit among fashion-conscious consumers.

Enhanced Product Visualization

AR is being used to create interactive 3D models of products, giving customers a more realistic and detailed view of items. This is particularly beneficial for products like furniture, electronics, and home decor.

AR Advertising

Brands are utilizing AR in their advertising campaigns, enabling customers to interact with products through ads. This increases engagement and can lead to direct purchases.
Also Read- Is there anything better than ChatGPT? Top 5 alternatives
Top Benefits Of Implementing AR In E-Commerce
Certainly, here are some additional top benefits of implementing Augmented Reality (AR) in e-commerce:
Reduced Customer Uncertainty

AR allows customers to visualize products in their real-world environment, reducing uncertainty about how items will look or fit. This increased confidence often leads to higher conversion rates and decreased cart abandonment rates, as customers are more likely to make informed purchase decisions.

Personalized Shopping Experiences

AR can provide personalized shopping experiences by recommending products based on user preferences and previous interactions. This level of personalization enhances customer engagement and can lead to higher sales through tailored product recommendations.

Improved Customer Retention

AR not only attracts new customers but also keeps existing ones engaged. Regularly updated AR experiences, such as new product launches, interactive features, or virtual try-on options, can encourage repeat visits and foster brand loyalty.

Interactive Storytelling

AR can be used to tell compelling product stories. Brands can overlay digital content like videos, animations, or narrations on physical products, creating engaging narratives that resonate with customers and drive emotional connections to the brand.

Reduced Product Return Costs

By enabling virtual try-ons and 3D product visualization, AR can significantly reduce the number of returns due to mismatched expectations. This, in turn, saves retailers the costs associated with processing returns and restocking items.

Competitive Advantage

Early adoption of AR in e-commerce can provide a significant competitive advantage. Brands that offer immersive and interactive shopping experiences are often perceived as more innovative and customer-centric, attracting tech-savvy consumers and staying ahead of competitors.

Enhanced Product Discovery

AR can be used to gamify the shopping experience, encouraging customers to explore products in a fun and interactive way. This can lead to more extended browsing sessions and increased exposure to a wider range of products.

Cross-Selling and Upselling Opportunities

AR can suggest related or complementary products during the shopping journey. For example, when a customer virtually tries on a pair of shoes, AR can recommend matching accessories or outfits, boosting average order values.

Real-time Inventory Insights

Retailers can use AR to provide real-time inventory information to customers. This helps manage expectations about product availability, preventing disappointment due to out-of-stock items.

User-Generated Content and Social Sharing

AR-powered features that allow users to share their virtual try-ons or interactions with products on social media can lead to user-generated content, virality, and increased brand visibility.
How Are Leading Brands Utilizing AR Technology to Enhance Their E-Commerce Business Advantages?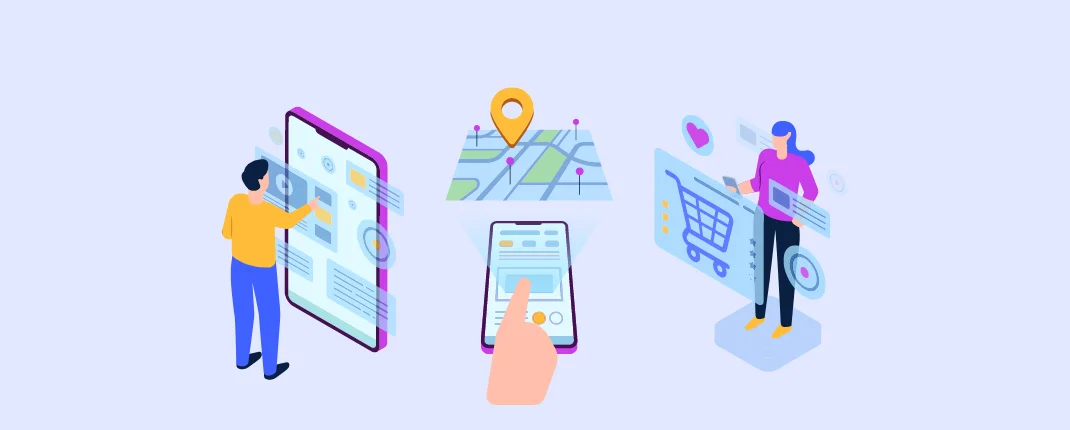 How Much Does It Cost To Build An AR-Powered Online Shopping App?
Implementing AR in e-commerce requires an investment in technology and development. The cost can vary significantly depending on several factors, including the complexity of the app, the features you want to include, and the platform you're targeting (iOS, Android, web). On average, developing a basic AR e-commerce app can cost anywhere from $20,000 to $50,000, while more complex apps can exceed $100,000.
It's essential to consider ongoing maintenance and updates in your budget as AR technology continues to evolve. The investment, however, can yield substantial returns in terms of increased sales and improved customer satisfaction.
In conclusion, Augmented Reality is rapidly transforming the e-commerce landscape for retail businesses. It offers a myriad of opportunities to engage customers, boost sales, and create memorable shopping experiences. By staying informed about the latest AR trends, learning from top brands, and making the right investments, retailers can leverage AR to stay competitive in the ever-evolving world of e-commerce.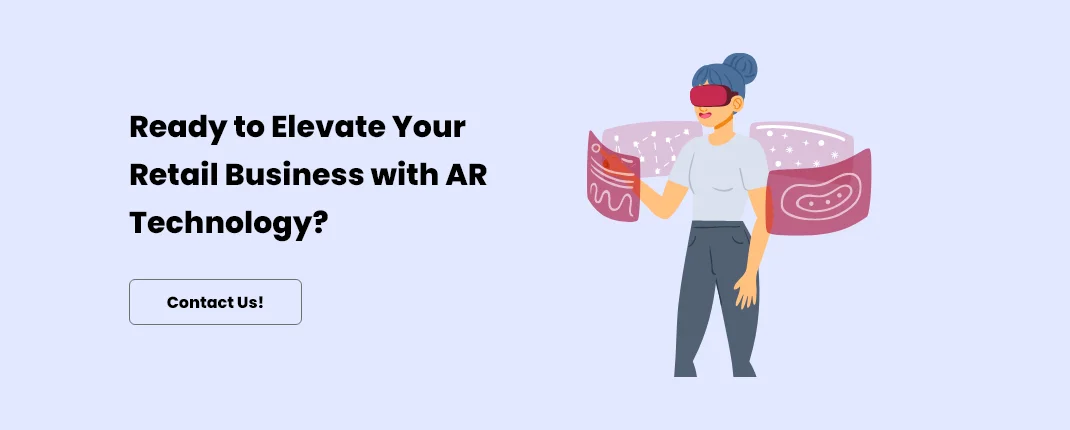 Conclusion
The integration of Augmented Reality (AR) into the retail industry has proven to be a game-changer, enhancing customer engagement, increasing sales, and setting businesses apart in the digital era. As we've seen from the successful implementations of leading brands like IKEA, Tanishq, Azorte, and Lenskart, AR technology offers immense potential for growth and innovation.
If you're considering harnessing the power of AR for your retail business,Innow8 Apps is your trusted partner in turning this vision into reality. Innow8 Apps specializes in creating cutting-edge AR solutions tailored to the unique needs of the retail sector.
FAQs
How does Augmented Reality (AR) benefit the retail industry?

AR benefits the retail industry in several ways. It enhances the online shopping experience by allowing virtual try-ons, reducing return rates, and providing interactive product visualization. It also increases customer engagement, boosts conversion rates, and fosters brand loyalty through immersive and personalized experiences.

What are some real-world examples of top brands using AR in e-commerce?

Several top brands, including IKEA, Tanishq, Azorte, and Lenskart, have successfully integrated AR into their e-commerce strategies. For instance, IKEA's AR app enables customers to visualize furniture in their homes, while Lenskart's AR feature allows virtual eyewear try-ons, enhancing the shopping experience.

How can Innow8 Apps help businesses in the retail sector build AR solutions?

Innow8 Apps specializes in creating customized AR solutions for the retail sector. They have expertise in retail-specific AR applications and offer cost-effective solutions that align with business goals. Innow8 Apps ensures seamless integration, staying updated with the latest AR technology to provide cutting-edge experiences.

What is the cost involved in implementing AR solutions in e-commerce for a retail business?

The cost of implementing AR solutions in e-commerce can vary depending on factors like the complexity of the project, desired features, and platform compatibility. Basic AR solutions can start at around $20,000 to $50,000, while more complex projects may exceed $100,000. Innow8 Apps works closely with businesses to offer cost-effective AR solutions tailored to their budgets and needs.