How can AI revolutionize the Game Industry?
Muskan Taneja
October 17, 2023
7 min read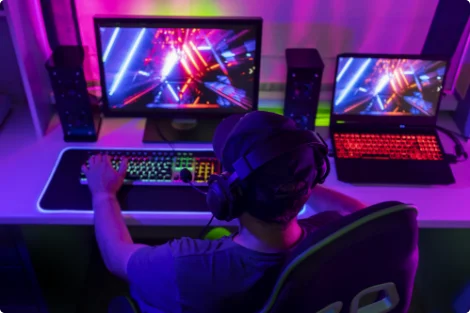 Playing games has always been a favourite pastime for people, especially kids. Nowadays, the love for games is stronger than ever and it doesn't seem to be going away anytime soon.
A while back, playing games meant running around outside or gathering around a board game. But now, things have changed. We have computers, game consoles, and phones that let us play all sorts of games, anytime and anywhere.
And it's not just kids who enjoy games. People of all ages find them exciting and fun. There are different kinds of games for different tastes. Some make you think hard, while others make your heart race with excitement.
The love for games is increasing day by day. It's not just a fad; it's a trend that keeps growing. And with new technologies like artificial intelligence, games are going to get even cooler!
If you are also a game lover and looking to invest in the gaming business then this blog is for you. In this blog, we will be discussing how AI is revolutionizing the gaming industry.
What is AI in the Gaming Industry?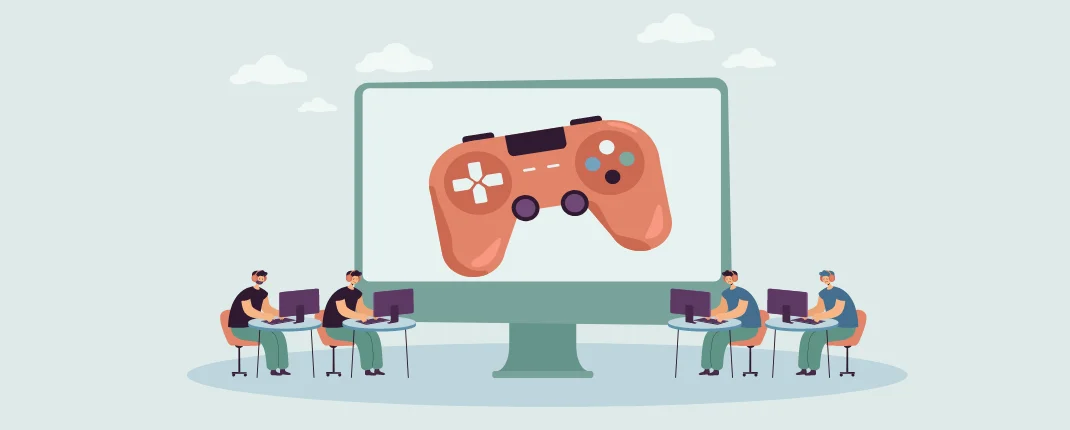 AI in the gaming industry is a groundbreaking integration of cutting-edge Artificial Intelligence technologies into the world of video games and associated processes. This fusion opens up a realm of possibilities, transforming gaming experiences into dynamic, intricate encounters that adapt to players' actions and preferences.
Different ways AI can revolutionize the Gaming industry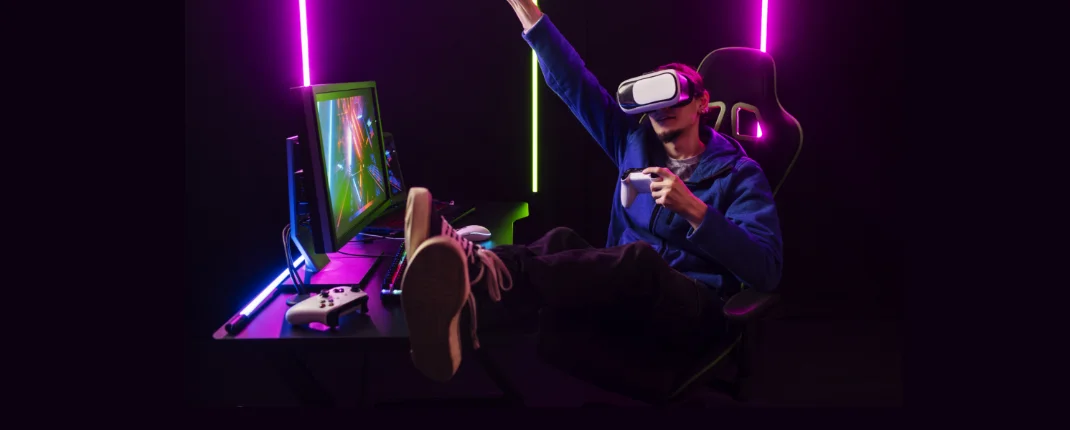 Artificial Intelligence has already made significant strides in revolutionizing the gaming industry, and its impact is expected to continue growing in the coming years. Here are several ways in which AI is transforming the gaming industry:
Non-Player Characters (NPCs)

Integrating artificial intelligence into Non-Player Characters (NPCs) can revolutionize the gaming experience. Unlike static, scripted responses, AI-powered entities possess the capacity to learn and adapt in real time. They can observe and react to player actions, dynamically adjusting their strategies and decisions to create a constantly evolving challenge. This level of adaptability injects a newfound depth and unpredictability into gameplay, ensuring that encounters remain fresh and engaging.

Whether it's NPCs recognizing and countering player tactics or enemies adapting to changing circumstances, AI-driven behaviour can elevate immersion and offer players a truly interactive and dynamic gaming environment. This not only enhances the overall gaming experience but also paves the way for a new era of sophisticated, lifelike virtual worlds.

Realistic Graphics and Visuals

Imagine stepping into a video game world where everything looks so lifelike, it's almost like being in a real place. This amazing level of realism can be made possible by cutting-edge AI techniques. One of these tricks is called ray tracing, which mimics how light behaves in the real world. This means you get stunningly realistic effects like lifelike shadows, reflections, and lighting.

Another cool thing is deep learning-based upscaling. It's like having a smart computer that can make lower-quality images look way sharper and more detailed. When you put these technologies together, it's a game-changer. The gaming experience becomes so immersive and authentic that it feels like you're truly a part of the virtual world. It's like stepping into a whole new reality!

AI-Driven Game Testing

AI-driven game testing can represent a paradigm shift in quality assurance for game development. By harnessing the power of artificial intelligence, testing processes can be automated to an unprecedented degree, enabling the rapid identification of bugs, glitches, and other issues with remarkable efficiency compared to conventional methods.

This transformative approach will not only ensure higher-quality game releases but also expedite development cycles, as AI can tirelessly navigate and interact with the game environment, uncovering potential flaws that may elude human testers. This will result in a more polished final product, poised to captivate players with a seamless and immersive gaming experience.

Game Content Generation

AI algorithms can demonstrate remarkable proficiency in autonomously generating various elements of video game content, encompassing levels, environments, characters, and even intricate narratives. This transformative capability can substantially diminish the reliance on manual content creation, thereby empowering developers to construct expansive and diverse virtual worlds with heightened efficiency and creativity. This technological advancement can ushered in a new era in game development, allowing for the realization of grander and more immersive gaming experiences.

Cheating and Fraud Detection

AI can stand as a vigilant guardian against dishonest practices within the gaming realm, adept at discerning irregular player conduct that signals potential cheating or fraud. By swiftly identifying these infractions, AI can safeguard the integrity of the gaming experience, fostering an atmosphere of equity and sportsmanship for all participants. This robust detection system guarantees that every player competes on a level playing field, upholding the fundamental principles of fair play and preserving the essence of a positive gaming environment.

Produce Music and Sound-Effects

AI can craft music and produce sound effects tailored to the nuances of gameplay. This dynamic adaptation enriches the auditory dimension of the gaming experience, immersing players in a more captivating sonic environment. By harnessing AI's capabilities, developers can seamlessly integrate music and sound effects that harmonize with the unfolding action, heightening the overall immersion and engagement of players. This innovative use of AI technology can open up exciting possibilities for the future of interactive entertainment, offering a new level of audio intricacy and responsiveness within the gaming landscape.
Also Read: Tips To Engage Your App Users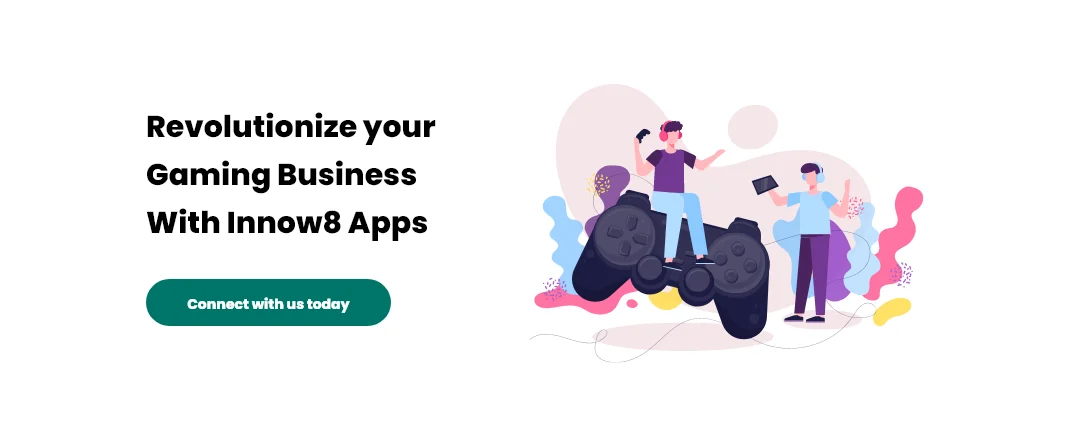 Conclusion
As we move forward, the potential for AI in gaming remains boundless. With advancements in technology and continued research, we can anticipate even more sophisticated and immersive gaming experiences in the future. The seamless integration of AI-driven solutions promises to redefine the boundaries of virtual reality and bring forth a new era of interactive entertainment.
If you're thinking of investing in the gaming world, or already have a cool project going, why not spice it up with some AI magic? Consider hiring an app development company. They're like the secret sauce to unlocking all the cool stuff AI can do! Together, you can cook up games that blow minds and set new trends in the gaming world. Get ready to ride the AI wave and let your creativity run wild – the sky's the limit!
FAQs
Can AI be used to enhance player personalization?

Yes, AI can analyze player data to create personalized experiences, such as suggesting in-game items, tailoring difficulty levels, and recommending content based on individual preferences.

Can AI be used to create realistic facial animations for characters in games?

Yes, AI techniques, such as deep learning, can be employed to generate lifelike facial expressions and animations, enhancing the realism of character interactions.

What are some examples of popular games that heavily rely on AI?

Games like "The Sims," "F.E.A.R.," "Halo," and "Civilization" are known for their advanced AI systems, showcasing different aspects of AI implementation in gameplay.

What is the future of AI in the game industry?

The future of AI in the game industry is likely to involve more advanced techniques, leading to even more realistic and immersive gaming experiences. Additionally, AI may play a much bigger role in content creation and player interaction.
Revolutionize your Gaming Business With Innow8 Apps