Step by Step guide in building a Social Media app
Published by Sumayya Siddique on March 17, 2020
Step by Step guide in building a Social Media app
We all have witnessed how impactful and influencing are social media. And it is no different when viewed with a Business Perspective. The future offered in Social networking apps are promising. Definitely the outnumbered smartphone users are one reason for this immense opportunity.
As an entrepreneur, you will be looking for the chance to capture this potential market. Well, you might have also noticed that there are some social media giants who have already made their places. But it's never late, as the emerging technologies are continuously paving paths that are not yet discovered and also carries tons of opportunity.
In this guide, I have covered the important steps that may not be there in your plan to build a social media app.
Know your competition
If there is a one-step that any business cannot skip, It is knowing your competition. In case of developing a social networking app, you'll need to learn your competitors just as your our app idea. This will help you understand the features of the existing apps in dept and also help you identify the loopholes which can help to create a better social media app.
If you haven't stared yet with your Competitor analysis, Here are some existing social media dominates.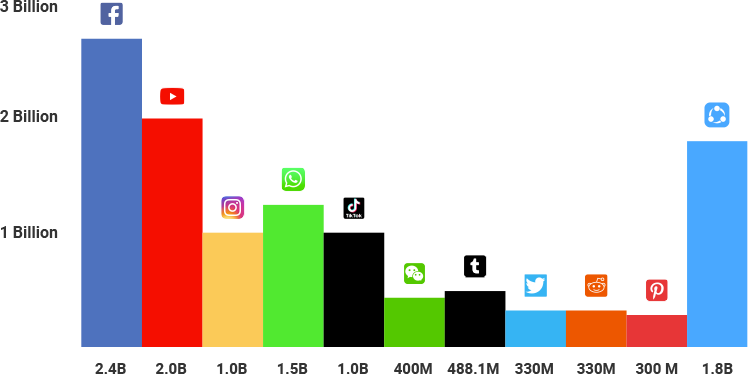 Know your Audience
Here is something cheering. The graph of the number of people using social media apps is ever increasing. The engagement strategies implemented by social media apps have held on 3.5 billion users worldwide. Which is 45% of the existing population.
Thanks to smartphones that makes it easy as never before to access and use social media apps equally for all age groups.
Getting to know your audience can become very helpful in building a user-centric app. You can gather informations that can assist you in acquiring users.
Building a Social Media App
If you already have a social media website, and building an app for it will only require less effort. For this, you can build a WebView app or a Progressive web app (PWA).
While building a social media app from scratch, It will include designing to development and deployment. The time and cost estimation for the project will be entirely dependent on the features and functionalities of your requirement for building a social media app.

Types of Social Media Apps
Social Media apps can be again divided into further categories. Here are some of them.
Chat app:
A good example of Chat apps include Whatsapp and Facebook Messenger. The users of the chat app can send and receive instant messages to the contacts in their device. Chat Apps are used for both personal and personal uses. The purpose of Chat apps are mostly for networking.
These Apps will have features such as
-Send and Recieve messages
-View status/ Stories
-Send and receive audio, videos, images, and documents.
Along with the above-mentioned features, top chat apps like Whatsapp and Facebook also include video and audio calls, which makes chat apps a complete social networking package.
Know more about developing a chat app
Professional Networking App:
This category of apps is only targeted for a specific crowd alone. An example of professional networking apps includes Linkedin that helps people connect with professionals, search for careers, read articles and posts that are of professional interest.
Blog Apps
Social blogging apps are another famous type of social media app. One such blog app is the Medium app. Blog apps let the users register and login to the app and read and publish articles of interest. The app also lets users easily share their posts through other apps.
Social Media Apps for Entertainments
Media sharing apps such as Instagram, Youtube and TikTok are one good example of social media apps. In these types of apps, the users can view, download and share media files. Videos, images and audio clips are some of them.
Lifestyle Apps
The daily routine apps are on the most used media app. The lifestyle apps come with extensive features such that they can make daily life much easier. Movies, leisure, travel, activities are some of the core features that come with lifestyle apps.
Once deciding upon your app category, here are some steps that can help you build your social media successfully.
What you cannot omit while building a social media app?

1. Connect with existing social media
Make sure not to isolate your app idea. The chances your target crowd is already using one more social media app is high. Isolating the app from another networking app can end up users abandoning your social app. For this, you can let the users log in to your app using other social media login details. This will help you collect user information that is already validated by other platforms. Also, Including the 'share externally' option in a social media app lets the users send media and files across other.
2. Interactions
Chats are not only the feature that lets the users interact with each other. Thereby if you are going to develop social media, providing a platform for interactions is mandatory. This can be chats, comments, reviews or discussion forums. Implementing interactive platforms in social media has the potentials to engage the users with your platform.
3. Customizable features
Everyone has their own way of expressing their feelings. Platform with options that lets the users express their thoughts and emotions in a creative way is most loved by the users. Social media apps should include customizable features that let the users personalize the profile picture, names, viewability and more.
4. News Updates
News updates are one common and most loved feature used in social media. This feature lets the users share their status, videos, and photos with the chosen people. This feature lets the users express their thoughts to bigger crowds.
Developing a Social Media App
Building your social media app with unique features is essential. At Innow8 apps, Social media app experts work on your idea to bring out the best in it. Here is the most effective method that is suggested by social media app experts.

Step 1
Refined Strategy:
The idea of building a social media app is raw. It is up to you and the social media app developers to sit together and work on the idea and come up with a well-planned approach that can make the app development process smoother. For building a strong base, primarily you need to consider the target crowd, the time and resources available. This can help you build a strong strategy.
Step 2:
Design Process:
The designing process is as important as any other step in building a social media app. This process can further be breakdown into more steps which involves creating a blueprint of the entire app and thereby evaluating the project steps, and the flow of the app.
The design itself consists of several steps:
Creating a Wireframe
Building a Prototype
UI/UX Design
Step 3:
App Development
Our app development process for social media app begins with setting up the back-end involving the databases (dB's), services for also storage allocations. Our social media experts work with the clients to understand the exact feature requirements and the knowledge is sorted out to our developers to meet all the feature requirements. We keep the development process 100% transparent so that our clients can pick up with where we have left easily.
Step 4:
Testing
The testing process is conducted in parallel with the app development process. We execute different types of testing which include unit testing, full-cycle testing, mobile testing, functional testing, performance testing, and API testing.
Step 5:
App Deployment
Once the project is completed and reviewed by our clients, we release the app in both Appstore and Playstore. We do the AppStore optimization that helps the app to rank on top search results. We also provide further support and feature upgrades required for the social media app.
Summing Up
Developing a social media app requires a lot of steps involving the research and study. With our experience in working with various domains, our developers are determined to develop social media apps of high performance.
Talk to the app experts who have helped ideas turn into reality!