Published by Sumayya Siddique on July 18, 2022
There were times when patients were forced to wait in the waiting areas in long queues. The waiting areas were tiresome and a waste of time. But thanks to the mobile app revolution in the healthcare sector, the times have changed. Mobile phones are more prevalent than other means of communication since they are always with us.
All of these utilise the power of mobile apps to enhance patient care, including disease diagnosis and the use of wearables and ingestible sensors.
We have grown more reliant on our smart devices as we have moved into the digital age. We still rely on our cellphones to manage our calendars, coordinate our work and business operations, remain updated and connected via social media, plan doctor visits and healthcare check-ups, and other things because they have become such an essential part of our lives. Healthcare innovation has made app development both a necessity and a luxury.
Healthcare Apps Today
Due to technology innovation and meddling, the healthcare sector has undergone significant change. We can plainly see how mobile app development has contributed to the healthcare industry's evolution over the last few years. The COVID-19 pandemic is still ongoing, and amid this crisis, mobile healthcare apps have opened the path for great growth, altering how people around the world view the health industry.
Telemedicine apps and doctor-on-demand apps have changed the way that the healthcare industry is organised. According to a survey by Healthcare Drive, telehealth solutions have increased in clinic use by 340%, and 79% of patients have given these apps excellent reviews. These kinds of apps are now included in a user's smartphone along with other helpful apps. The advantages they provide have inspired many medical practitioners to invest in the creation of on-demand healthcare apps in addition to convincing users to retain such programmes on their mobile devices.
1. Convenience
The days of physically going to a doctor's office to schedule an appointment are long gone. Digital visits have replaced physical visits in the medical industry because of mobile app services. Patients may simply identify doctors nearby and make an appointment right away in this age of healthcare digitization and smartphone apps. Additionally, there are interactive smartphone apps that let patients ask 24/7 accessible doctors about general health-related issues without making an appointment. In this situation, a telemedicine app that enables real-time communication between patients and nearby doctors is very beneficial. They can access the database of medical experts with only a few taps and get the assistance they require.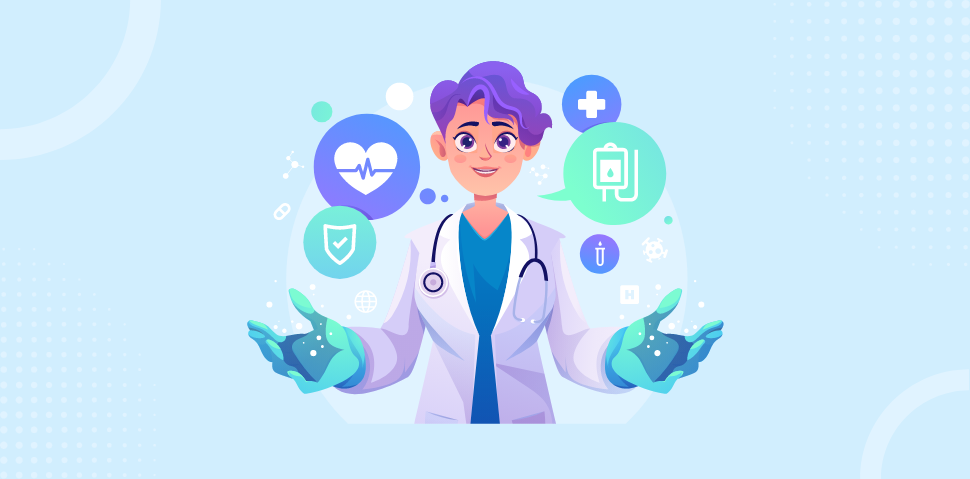 2. Instant Aid
A doctor-on-demand app has many advantages, one of which is that it makes people's life more convenient. In contrast to large areas or metro cities, local or distant locations typically have fewer medical institutions and specialists. The only options available to people are to travel to a metropolis or to wait a long time for a doctor's appointment and the necessary treatment. If the patient is a young child or an elderly person, the situation may be considerably more difficult. In this situation, a telemedicine app that enables real-time communication between patients and nearby doctors is very beneficial. They can access the database of medical experts with only a few taps and get the assistance they require.
3. Simple payments
One of the main benefits of mHealthcare applications must be quick and simple bill payment. Traditionally, making the payment required hours of standing in line. We may instantly pay for our own health and that of our loved ones thanks to mobile technology's very secure payment mechanisms.
4. Pick your doctor
Patients now have access to all the information they require to choose a doctor for their treatment thanks to smartphone apps. You may research everything to help you make an informed choice, including ratings, costs, levels of expertise, and reviews and experiences from other patients.
5. Lucrative Offers & Discounts
It is simpler for medical professionals to keep their patients informed about the many offerings they are making thanks to these on-demand clinical applications. Additionally, doctors can inform their patients of all the special offers and free treatments available.
These medical apps can also be used to alert patients about special offers and send them customised messages. Additionally, with these apps, users can complete a feedback form and provide their open criticism so that doctors can make the required corrections.
6. Ease With Medical Reports
Although doctors are only human and occasionally make mistakes, the results are often fatal. Such instances of incorrect diagnosis have decreased as a result of the deployment of machine learning and data analytics in healthcare. The patient can receive accurate reports thanks to equipment efficiency and precision.
The patient and the doctor can access the medical records from any location at any time thanks to medical applications. This information can be retrieved in circumstances where a patient switches between several healthcare professionals to quickly make medical decisions.
7. More Transparency
These mobile health apps connect patients and caregivers by serving as a conduit. They can keep patients continually informed on the most recent developments in healthcare. Patients have a better overall experience as a result, and they continue to be happy with their doctors.
Additionally, people do not have to wait a long period to see a doctor. They can quickly locate caregivers nearby their area and obtain emergency medical assistance with the aid of these apps.
KEY TAKEAWAY
You now know how medical care technology has specifically contributed to the development of mobile healthcare applications, their benefits, and some advice on how to do so successfully. The aforementioned information makes it abundantly evident that the upcoming years will be excellent for medical mobile app enhancement companies, healthcare professionals, and patients; you'll find superior solutions and a variety of possibilities to choose from to be able to address a problem.
However, a team of competent and experienced health IT solution providers, medical application developers, and a marketing team are required to complete such a massive undertaking. Innow8 Apps can therefore be your ideal development partner and begin the project.
Looking to create a Healthcare app?