Metaverse Wedding Platform - Is It A New Trend?
Himanshi Arora
October 25, 2023
6 min read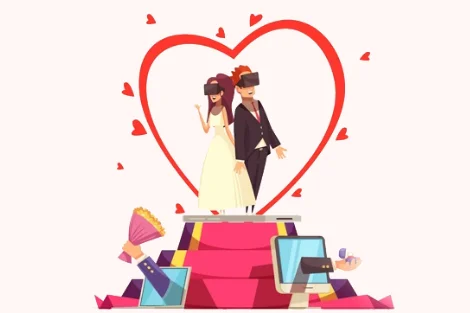 In an era where technology constantly redefines the way we live and interact, it comes as no surprise that it's now exerting a profound influence on one of life's most cherished events – weddings. The traditional wedding landscape is evolving, and couples worldwide are embracing the digital age to create unique and unforgettable experiences. One of the latest trends that has captured the imagination of soon-to-be-married couples is the concept of Metaverse Weddings.
In this article, we'll delve into the fascinating world of Metaverse Weddings, exploring how this innovative approach is revolutionizing wedding receptions and venue selections. As the Metaverse continues to develop, it's paving the way for couples to say "I do" in a virtual realm, offering an entirely new dimension to the concept of matrimonial celebrations. Furthermore, we'll also discuss the role of blockchain development in enhancing these experiences and ensuring their security and authenticity.
So, join us as we take a deep dive into this digital frontier, where love and technology converge, creating a wedding experience unlike any other. Let's discover if Metaverse Weddings are destined to become the new trend that redefines the way we celebrate love and union.
What is Metaverse?
The Metaverse is a virtual universe where the physical and digital worlds blend. Users can create avatars, interact, work, and play in this interconnected digital space using technologies like VR and AR. It's a rapidly evolving concept gaining traction for its potential to redefine how we socialize, work, and engage online.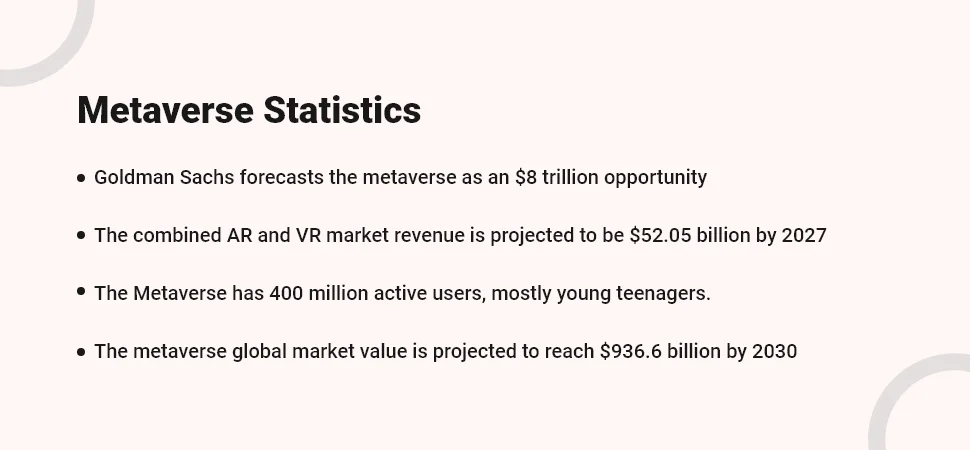 What Is Metaverse Wedding?
A Metaverse wedding is a virtual wedding ceremony and reception that takes place within the Metaverse, a digital and immersive online space. In a Metaverse wedding, the couple, guests, and even the wedding venue itself are represented as digital avatars. The ceremony can be hosted in a variety of virtual settings, ranging from dreamy landscapes to fantastical worlds.
Metaverse weddings offer couples the opportunity to celebrate their union in a unique and innovative way, often incorporating elements that wouldn't be possible in a traditional wedding. These digital weddings can be attended by guests from around the world, allowing for a global and inclusive celebration. While they may not replace traditional weddings entirely, Metaverse weddings are becoming a popular choice for couples who want to embrace technology and create memorable, virtual experiences to mark their special day.
Metaverse Wedding Reception: Is It A New Trend?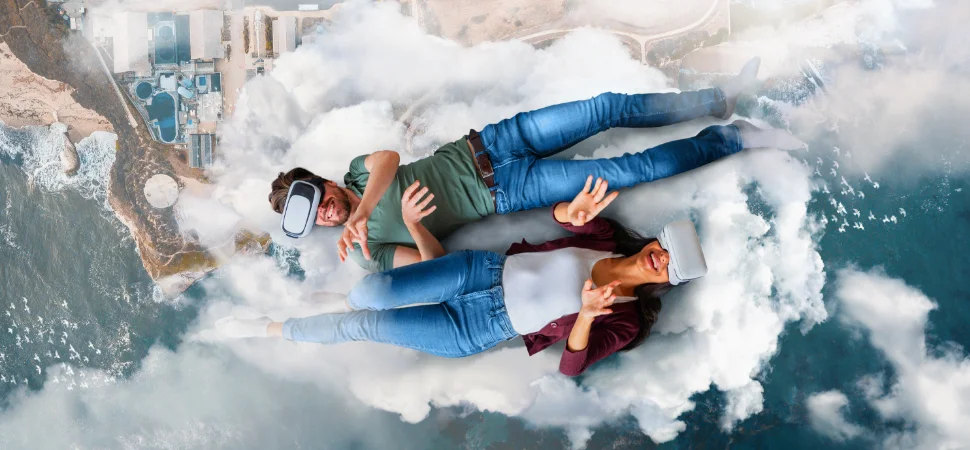 In the ever-evolving landscape of weddings, where tradition meets innovation, a new phenomenon is emerging – the Metaverse wedding reception. The question on everyone's mind: Is this virtual celebration a fleeting trend, or is it here to stay as a permanent fixture in the world of matrimonial festivities? Let's explore the concept of Metaverse wedding receptions and the factors that suggest it might indeed be a trend worth watching.
The Metaverse Unveiled
Before diving into the trend, it's essential to understand what the Metaverse entails. The Metaverse is a digital universe where physical and virtual realities converge. Within this immersive online space, users can interact, socialize, and even create their own virtual identities known as avatars. It's a place where imagination knows no bounds, and possibilities are limited only by technology and creativity.
The Emergence of Metaverse Weddings
Metaverse weddings have gained popularity as couples seek innovative ways to celebrate their love. These virtual receptions offer a unique blend of technology and tradition, where guests, friends, and family can gather from all corners of the globe to witness and celebrate the union. From exotic virtual destinations to elaborate avatar outfits, Metaverse weddings offer an exciting departure from the ordinary. Is It a New Trend?
While it's tempting to dismiss Metaverse weddings as a fleeting fad, several compelling factors suggest otherwise:
Accessibility and Inclusivity

Metaverse weddings break geographical barriers, allowing guests to attend without the constraints of travel. This accessibility makes them an attractive option for couples with international or distant family and friends.

Immersive Experiences

The Metaverse offers limitless possibilities for creating unique and immersive wedding experiences. Couples can customize their virtual venues, add interactive elements, and even incorporate fantastical settings that go beyond what's achievable in the physical world.

Technological Advancements

As technology continues to advance, the Metaverse is becoming increasingly sophisticated. With improvements in virtual reality, augmented reality, and digital communication, the potential for creating unforgettable Metaverse wedding receptions is on the rise.

Environmental Considerations

Metaverse weddings have a lower carbon footprint compared to traditional celebrations that often involve extensive travel, catering, and physical venue decorations. This appeals to environmentally-conscious couples.

Cost-Efficiency

Traditional weddings can be expensive, with costs associated with venues, catering, and decorations. Metaverse weddings offer a more cost-efficient alternative, making them attractive to budget-conscious couples.
The Role of Blockchain Development
Blockchain technology is playing a significant role in the authenticity and security of Metaverse weddings. Smart contracts can be utilized to ensure that all aspects of the wedding, from virtual venue bookings to digital asset ownership, are transparent and secure.
Also Read: 8 Ways to Earn Money with Mobile Games
Famous Weddings Take Place In Metaverse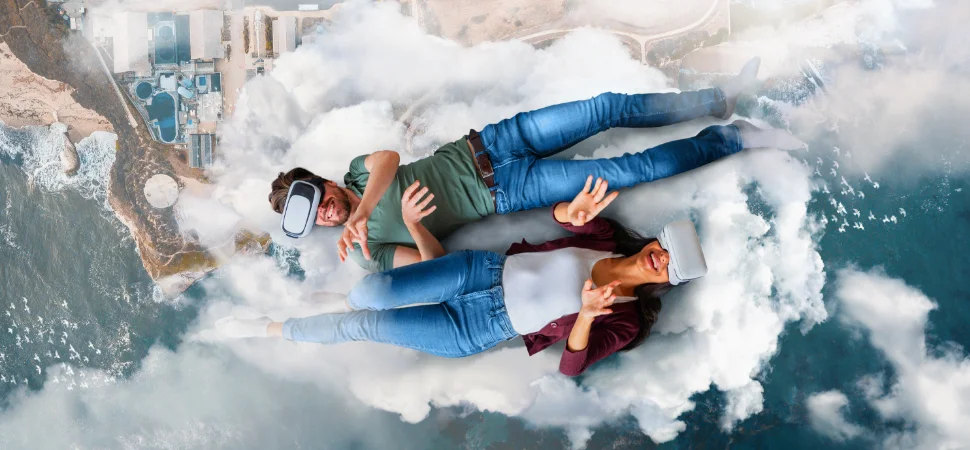 Taco Bell's Bold Move: The Metaverse Wedding of 2023
In a groundbreaking move that highlights the ever-evolving intersection of technology and culture, Taco Bell made waves in early 2023 by hosting a Metaverse wedding. This event, celebrated in the digital realm, signifies the growing importance and potential of the Metaverse in reshaping traditional celebrations and experiences.
Taco Bell, known for its innovative marketing campaigns and a strong social media presence, seized the opportunity to create a memorable Metaverse wedding experience. The fast-food giant collaborated with a couple, Sheel Mohnot and Amruta Godbole who were not only fans of Taco Bell but also eager to embrace this novel way of tying the knot.
The wedding took place in a digital realm designed to resemble a Taco Bell restaurant. Guests attended as avatars, immersing themselves in a virtual world that combined the familiar ambiance of Taco Bell with the excitement of a wedding celebration. The ceremony was officiated by a digital representation of a Taco Bell employee.
The Role of Technology and Virtual Reality
The Taco Bell Metaverse wedding showcased the power of technology, particularly virtual reality (VR), in reimagining traditional celebrations. The digital Taco Bell restaurant, complete with iconic menu items and décor, provided an immersive and nostalgic experience for the guests. As technology continues to advance, we can expect even more detailed and realistic virtual environments for such events.
The Metaverse Wedding Trend
While the Taco Bell Metaverse wedding is undoubtedly a memorable and pioneering event, it also highlights a broader trend: the growing popularity of Metaverse weddings. Couples are increasingly open to exploring innovative ways to celebrate their love in the digital realm, offering unique experiences for themselves and their guests. The Metaverse provides a canvas for creativity, allowing for customizable and imaginative wedding settings.
Advantages Of Metaverse Wedding Reception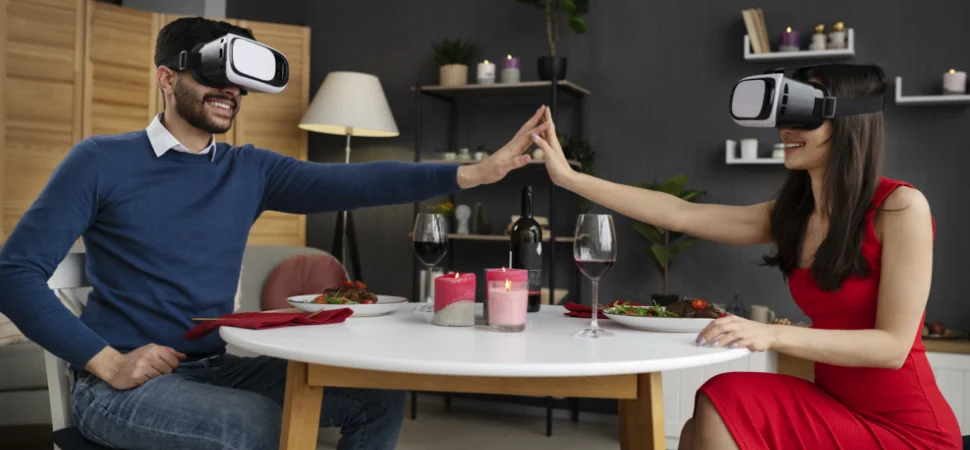 As technology continues to redefine the way we live and interact, it's no surprise that even the age-old tradition of weddings is undergoing a digital transformation. Metaverse wedding receptions, celebrated within virtual realms, offer a range of unique advantages that are enticing couples to consider this innovative approach. Here are some of the key advantages of Metaverse wedding receptions:
Global Accessibility

One of the most significant advantages of a Metaverse wedding is the ability to bring together guests from around the world without the constraints of geography. Friends and family who might have been unable to attend a physical wedding due to distance or travel restrictions can now be part of the celebration through their digital avatars. This accessibility fosters inclusivity and strengthens the sense of community.

Cost-Efficiency

Traditional weddings can be financially taxing, with expenses related to venues, catering, decorations, and more. Metaverse weddings often come at a lower cost, making them an attractive option for budget-conscious couples. While there are still costs associated with creating and customizing virtual spaces, they are generally lower than those of a physical wedding.

Creative Freedom

Metaverse weddings offer unparalleled creative freedom. Couples can choose from a wide array of virtual venues, from enchanting forests to futuristic cityscapes. They can also design and customize their avatars and surroundings, creating a wedding experience that reflects their unique personalities and preferences.

Environmental Sustainability

Metaverse weddings have a smaller carbon footprint compared to traditional weddings, which often involve extensive travel for guests and the production of physical materials for decorations. Choosing a virtual celebration aligns with sustainability goals and reflects a commitment to environmentally responsible choices.

Immersive Experiences

The Metaverse allows for immersive experiences that go beyond the physical world's limitations. Couples can incorporate interactive elements, virtual entertainment, and even gaming experiences into their wedding receptions, providing guests with a truly unforgettable celebration.

Flexibility and Convenience

Metaverse weddings offer flexibility in terms of timing and location. Couples can choose a date and time that suits them, and guests can attend from the comfort of their own homes. This flexibility can be particularly advantageous for couples with busy schedules or those navigating time zone differences.

Enhanced Security and Privacy

Blockchain development is increasingly being used to enhance the security and privacy of Metaverse weddings. Smart contracts can ensure that digital assets, such as virtual venues or custom avatars, are owned securely and can't be tampered with.
Also Read: How To Create Your Own Fitness App: Costs, Steps, and Features
Metaverse Wedding Platform Development Services
When developing a Metaverse wedding platform, you'll need to consider various platforms and technologies to create a seamless and immersive virtual experience. Here are some key platforms and technologies commonly used in Metaverse wedding platform development:
Virtual Reality (VR)

Utilize VR platforms like Oculus, HTC Vive, or PlayStation VR to create immersive 3D environments for the Metaverse wedding experience.

Blockchain Development

Integrate blockchain technology using platforms like Ethereum or Binance Smart Chain to ensure security, transparency, and ownership of digital assets.

3D Modeling and Animation Tools

Use software like Blender, Unity 3D, or Maya for creating and animating 3D models of virtual wedding venues and avatars.

Real-time Communication APIs

Implement APIs such as WebRTC to enable real-time communication features like text chat, voice chat, and video conferencing among avatars.

Cloud Infrastructure Providers

Leverage cloud services like AWS, GCP, or Azure to host the Metaverse wedding platform, ensuring scalability and reliability.

Content Management Systems (CMS)

Use CMS platforms like WordPress or custom solutions for managing guest lists, invitations, and RSVPs.

Streaming Services

Integrate streaming platforms like Twitch or YouTube Live for live broadcasting of wedding ceremonies and events to remote guests.

Payment Gateways

Facilitate transactions related to virtual weddings, including virtual asset purchases, by integrating payment gateways such as PayPal, Stripe, or cryptocurrency payment solutions.
Cost of Developing Metaverse Wedding Platform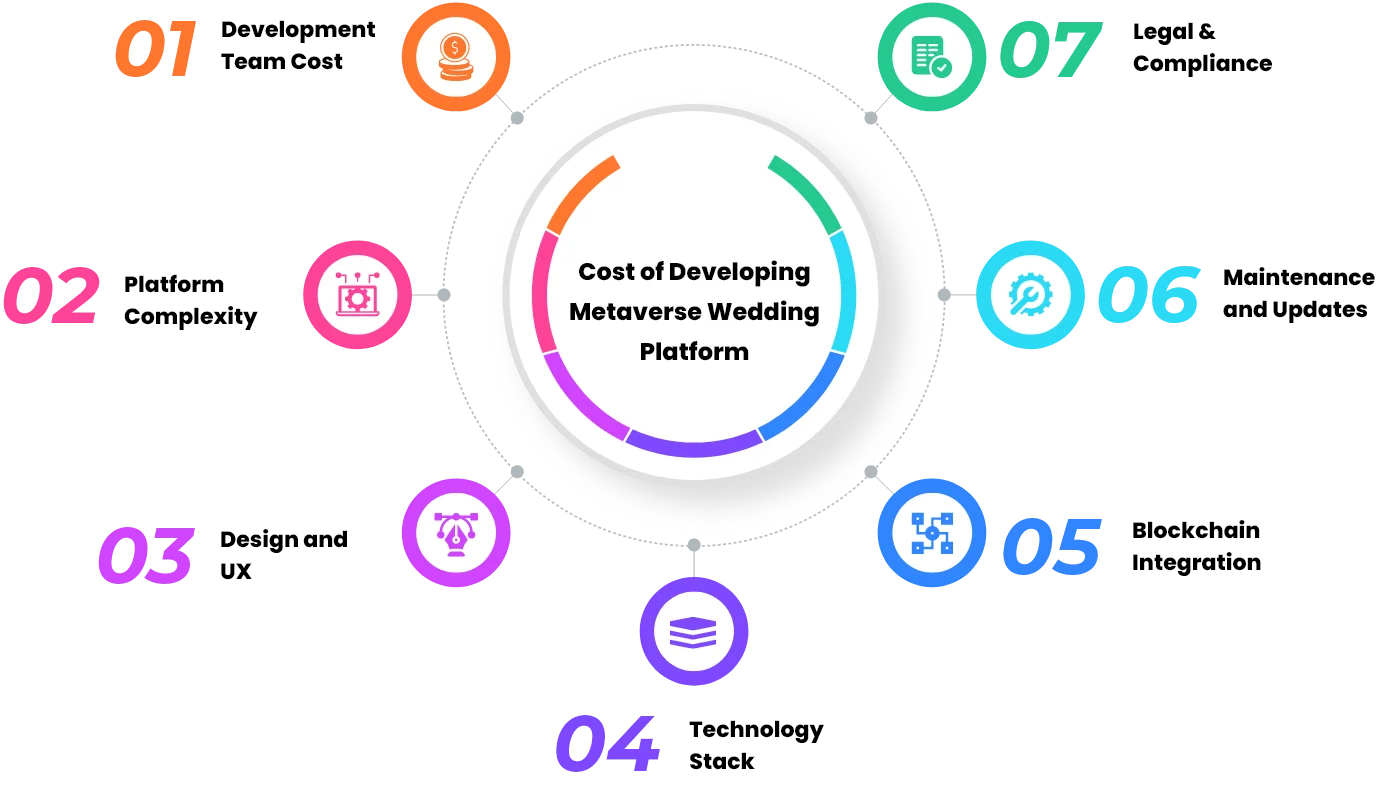 The total cost of developing a Metaverse wedding platform can range from tens of thousands to hundreds of thousands or even more. A small-scale platform with basic features might start at around $80K, while a highly customized and feature-rich platform could cost $200K or more. These figures are approximate and can vary significantly based on your specific requirements and project scope. Consulting with development professionals will provide a more accurate estimate.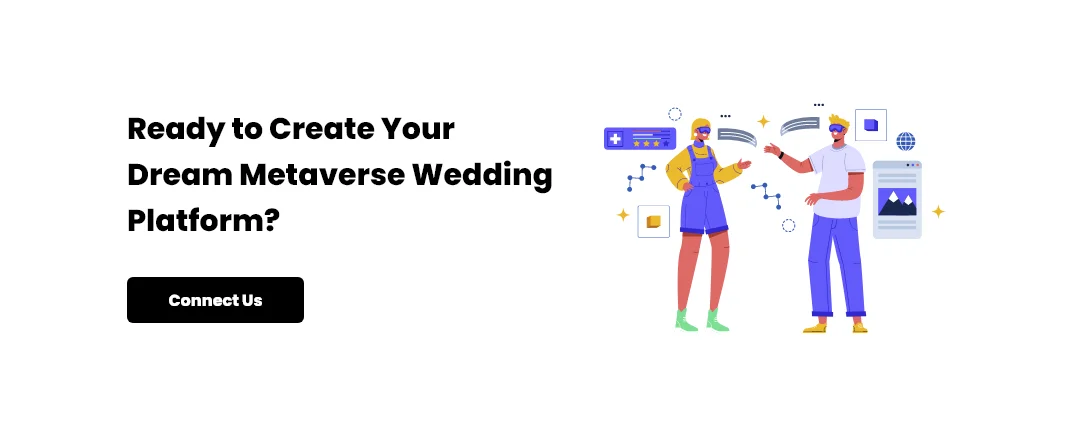 Conclusion
The emergence of Metaverse wedding platforms represents a transformative shift in the way we celebrate love and unity. These virtual environments offer couples an unprecedented level of accessibility, personalization, and interactivity, transcending geographical constraints to create unique and unforgettable wedding experiences. From the creation of enchanting virtual venues to the integration of blockchain-backed security, the possibilities within the Metaverse are limitless.
To embark on this exciting journey of redefining wedding celebrations in the digital realm, it's crucial to choose a capable and innovative development partner.Innow8 Apps stands as an ideal choice,Innow8 Apps is a seasoned metaverse development firm providing an extensive range of services to clients and enterprises worldwide, regardless of their scale. Our track record includes assisting companies in crafting inventive websites and mobile applications that elevate brand visibility, attract a larger customer base, drive sales, and ultimately amplify earnings. Our expert team is well-equipped to aid you in either building a metaverse wedding platform from scratch or incorporating tailored functionalities and improvements into your existing platform.
FAQs
What exactly is a Metaverse wedding platform?

A Metaverse wedding platform is a virtual space or environment where couples can host their wedding ceremonies and receptions in a digital realm. These platforms leverage virtual reality (VR) and augmented reality (AR) technologies to create immersive and interactive experiences that transcend physical boundaries.

How can guests attend a wedding in the Metaverse?

Guests can attend a Metaverse wedding by creating digital avatars that represent them within the virtual environment. They can access the platform through compatible devices like VR headsets, smartphones, or web browsers. This enables remote attendees to participate in the celebration from anywhere in the world.

What are the advantages of hosting a wedding in the Metaverse?

Hosting a wedding in the Metaverse offers several advantages, including global accessibility, cost-efficiency, creative freedom, environmental sustainability, immersive experiences, and flexibility in timing and location. It also allows for interactive elements and enhances inclusivity, as guests can join without travel constraints.

Is it possible to ensure privacy and security in a Metaverse wedding platform?

Yes, privacy and security are paramount in Metaverse wedding platforms. They often incorporate robust security measures, including user authentication, data encryption, and content moderation. Some platforms also use blockchain technology for enhanced security and transparent transactions, ensuring that the digital wedding space is safe and private for all users.